National campaign seeking help to safeguard Asiatic Cheetah
September 2, 2017 - 9:8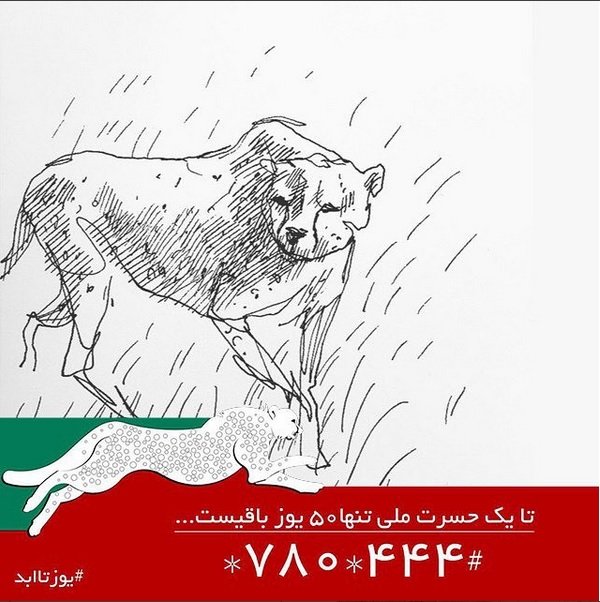 TEHRAN — A national campaign is calling for collecting contributions to help protect Asiatic cheetahs living in Touran National Park.
The campaign which began on August 31, National Asiatic Cheetah Day, is seeking to collect contributions to help Asiatic Cheetah conservation project. Many celebrities, actors, athletes, and environmentalist have taken part in the campaign ever since.
The campaign is unfolding under the theme '50 cheetahs left till a national regret'.
The cheetah thrives in open lands, small plains, semi-desert areas, and other open habitats where prey is available.
The Asiatic cheetah mainly inhabits the desert areas around Dasht-e Kavir in the eastern half of Iran, including parts of the Kerman, Khorasan, Semnan, Yazd, Tehran, and Markazi provinces.
The animal is mostly living in five protected areas, Kavir National Park, Touran National Park, Bafq Protected Area, Dar-e Anjir Wildlife Refuge, and Naybandan Wildlife Reserve.
The Asiatic cheetah has been listed as Critically Endangered on the IUCN Red List since 1996.
Reduced gazelle numbers, persecution, land-use change, habitat degradation and fragmentation, and desertification contributed to the decline of the cheetah population.
The cheetah is affected by loss of prey as a result of antelope hunting and overgrazing from introduced livestock. Mining development and road construction near reserves also threaten the population.
MQ/MG