Four art elites receive lifetime achievement awards at Iran Cinema Celebration
September 11, 2017 - 18:50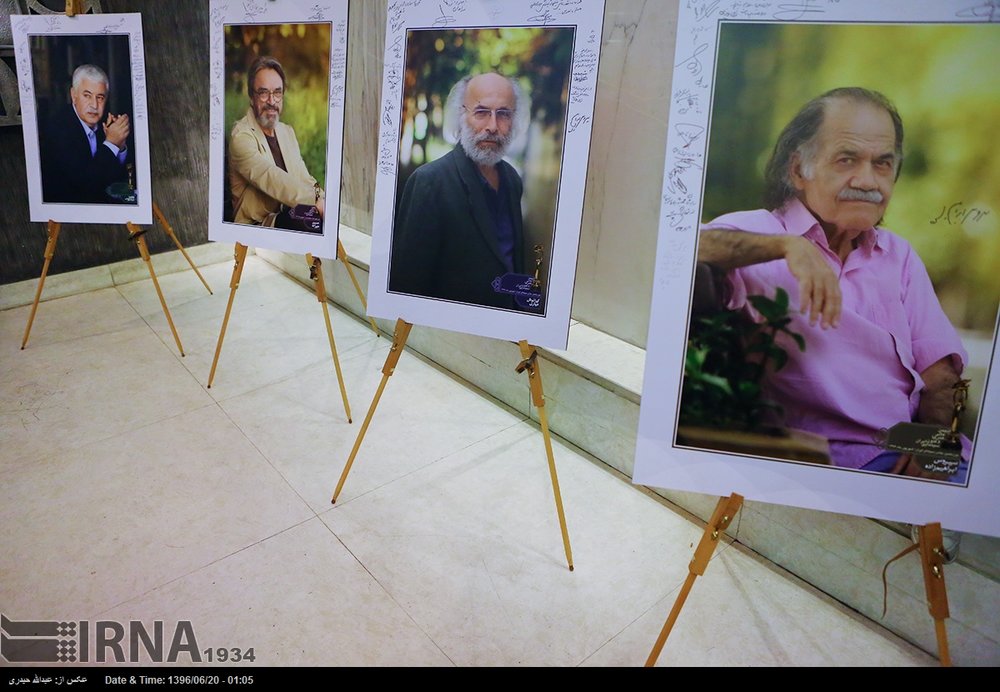 TEHRAN – The organizers of the 19th edition of the Iran Cinema Celebration honored four influential figures in in Iranian cinema for their lifetime achievements in a special ceremony on Sunday night.
Director Kianush Ayyari, actor Sirus Ebrahimzadeh, composer Hossein Alizadeh and film expert Mohammad-Hassan Khoshnevis received lifetime achievement awards during the ceremony organized at Eyvane Shams Hall.
"I cannot find adequate words to say how pleased I am," Ebrahimzadeh said after accepting his award.
"These awards convince the younger generation that patience and diligence will not be fruitless," he added.
"These awards also give the opportunity to the honorees to review the ups and downs of their past lives in order to learn the previous lessons of their lives," stated Ebrahimzadeh who began his acting career with Ali Hatami's "Hassan the Bald" in 1970. He is also a man of letters with works such as "A Little Request".
In his acceptance speech, Khoshnevis, the former director of the Iran Film Archives, said, "A cultural figure should be very familiar with the history of his/her own country," and asked cultural figures not to hold out much hope that governments will make breakthroughs in the cultural fields.
Ayyari accepted his award from directors Alireza Davoodnejad, Morteza Razzaqkarimi, and Hassan Fathi and producer Fereshteh Taerpur, who also commented about him.
"I was so pleased by the comments," said Ayyari and congratulated Iran's National Day of Cinema.
Veteran actor Amin Tarokh, musician Mohammad Sarir and director Homayun Asadian appeared on stage to present Alizadeh an award.
"It's hard to work in the field of music in Iran, but the work in this area never caused a disturbance, because I was a lover who was searching for his missing love and nothing could stop me," said Alizadeh who composed music for many memorable movies such "Love-Stricken" by Ali Hatami.
"I feel proud to work in Iranian cinema," he stated.
Each honoring was followed by a performance by the Iranian-rock fusion band Pallet.
Photo: Stands set up at Eyvane Shams Hall in Tehran show pictures of the art elites (left to right) Mohammad-Hassan Khoshnevis, Hossein Alizadeh, Kianush Ayyari and Sirus Ebrahimzadeh honored for their lifetime achievements during the 19th Iran Cinema Celebration on September 10, 2016. (IRNA/Abdollah Heidari)

MMS/YAW