Brazilian market open to high-quality Iranian products
September 13, 2017 - 10:3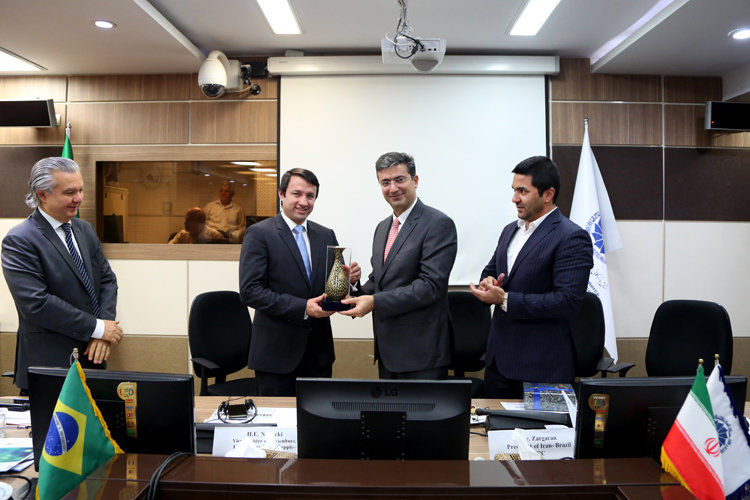 TEHRAN - Brazilian Deputy Minister of Agriculture, Livestock and Food Supply Eumar Novacki said his country's market welcomes high quality Iranian products, Iran Chamber of Commerce, Industries, Mines and Agriculture (ICCIMA)'s portal reported.
The official made the remarks in an Iran-Brazil business forum held in ICCIMA building in Tehran on Monday.
Emphasizing his government's all-out efforts regarding development of bilateral trade ties with Iran, Novacki mentioned banking issues as a major hurdle in the way of expansion of trade relations.
"The first Iran-Brazil agriculture advisory committee is going to be held on November 21 and 22 in Brazil and we invite all Iranian firms and companies active in this area to attend," he added.
During the meeting, ICCIMA Vice Chairman Pedram Soltani noted that the trade between Iran and Brazil is tipped noticeably in favor of Brazil so Iran needs to take necessary measures for increasing exports to Brazil to reach an ideal trade balance.
Stressing the need for joint investment, Soltani said Iran expects to benefit from Brazil's knowledge in agriculture, adding "Iran eyes joint investment with Brazil's agriculture sector."

Further in the event, Iran-Brazil Joint Chamber of Commerce Chairman Kaveh Zargaran mentioned the great potentials of Iran and Brazil for cooperation in agriculture saying, "The main issue in this regard will be removing financial and banking hurdles."
Brazilian Ambassador to Iran Rodrigo de Azeredo Santos also emphasized banking problems as the main issue for Iran-Brazil trade.
"Some positive steps have been taken in this regard and a banking delegation from Iran visited Brazil in August to further discuss the matter," he noted.
EF/MA