Belgium says doesn't agree with all U.S. policies
September 16, 2017 - 19:49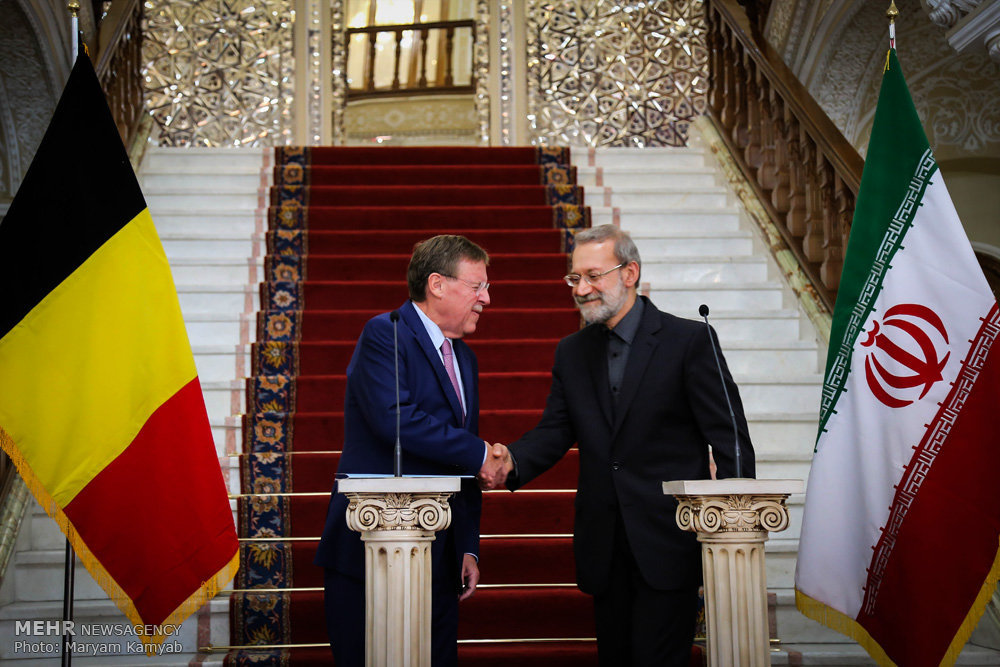 TEHRAN - Siegfried Bracke, president of the Belgian Chamber of Representatives, said on Saturday that Belgium does not agree with all U.S. policies, noting Belgium's ties with Iran are based on mutual interests.
Differences have emerged between the European Union and the Trump administration over number of issues including the Paris climate agreement, security cooperation within NATO, Donald Trump's disdain for the July 2015 nuclear agreement between Iran and major powers, and Trump's rash behavior.

Speaking at a joint press conference with Iranian Majlis Speaker Ali Larijani in Tehran, Bracke also highlighted the importance of expanding relations between Belgium and Iran.
Brussels is the capital of the European Union.
Bracke expressed hope that the EU would open an office in Iran soon.
Larijani expressed hope that Bracke's visit to Tehran would mark a milestone in ties.
He also said that international cooperation is required to counter terrorism.
On March 22, 2016, three coordinated suicide bombings occurred in Belgium, two at Brussels Airport in Zaventem and one at Maalbeek metro station in central Brussels.
Rouhani urges EU to send 'strong message' to U.S. on nuclear deal
Also in a separate meeting with Bracke on Saturday Iranian President Hassan Rouhani said the European Union is expected to send a "strong message" to the Trump administration on the nuclear deal and press Washington to abide by its commitments under the nuclear agreement.
Recently Trump and his UN ambassador to the UN Nikki Haley have toughened their rhetoric on the nuclear deal, officially known as the Joint Comprehensive Plan of Action (JCPOA). On September 5, Haley laid out a case for Trump to step back from the nuclear deal, arguing that Iran's technical compliance alone isn't enough for the U.S. to stick with the pact.
Under the deal, which was struck by Trump's predecessor Barack Obama, Iran agreed to slow down its nuclear activities in exchange for termination of financial and economic sanctions. The deal which involves Iran, the European Union, Germany and the five permanent members of the UN Security Council including the U.S. went into effect in January 2016.
"We expect the European Union to fully implement the JCPOA and press the U.S. to be committed to its obligations to the JCPOA and send a strong message to them [the U.S.]," Rouhani said during a meeting with Baracke.
Rouhani said that Iran has been committed to its obligations and this has been confirmed repeatedly by the International Atomic Energy Agency, the United Nations nuclear watchdog.
Therefore, he said, other signatories must comply with the agreement.
Elsewhere, he said that Iran is determined to use the post-JCPOA atmosphere and expand relations with European countries, especially Belgium.
For his part, Bracke said that Belgium seeks to expand relations with Iran.
He also said Brussels attaches great importance to compliance to the JCPOA.
The EU will make any effort to implement its obligations under the international nuclear agreement, he noted.
He also called for expansion of banking ties between Iran and Belgium.
'Unwise behavior'
Also, Iran's Supreme National Security Council secretary Ali Shamkhani, in a meeting with Bracke, said the "threatening language" by U.S. officials reveals Washington's "hostile approaches" toward Iran.
Shamkhani called on the signatories to the JCPOA to counter any "unwise behavior" and "illegal and extreme position" toward the nuclear deal.
Elsewhere, the security chief said Iran is ready to expand relations with the European countries in various areas.
Shamkhani also said an instrumental use of terrorism by some Western countries has led to spread of terrorist acts.
Bracke also said that Iran plays an important role in stabilizing the Middle East region.
NA/PA