Rouhani pushes for environment cooperation with Japan
Japan's Abe urges all nuclear deal signatories to respect their obligations
September 21, 2017 - 3:18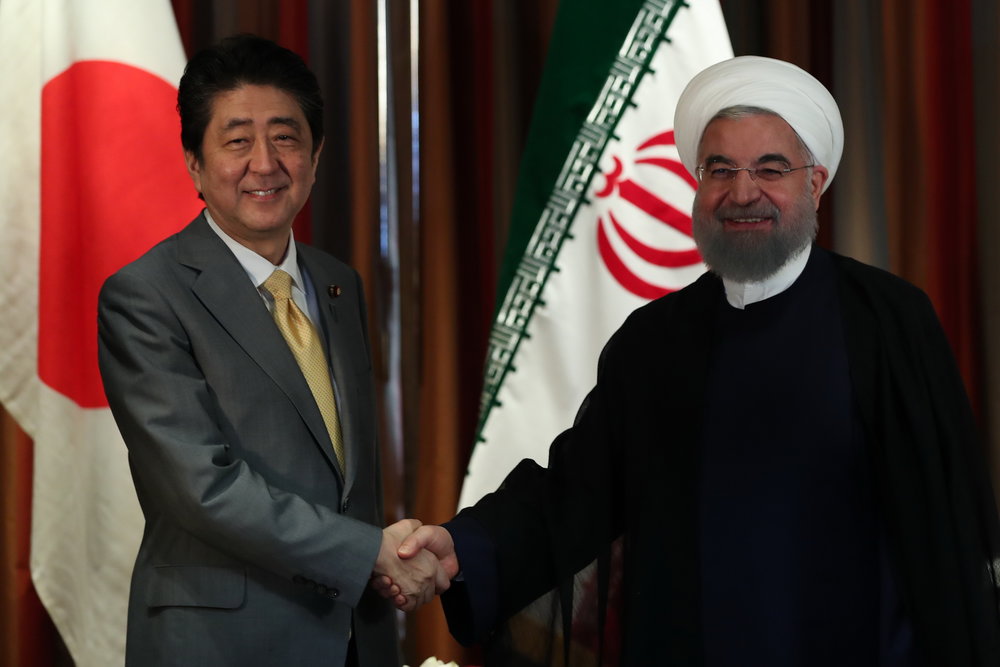 TEHRAN - Japanese Prime Minister Shinzo Abe has called on the signatories to the 2015 nuclear agreement to respect the international agreement and remain committed to their obligations.
Abe made the remarks during a meeting with Iranian President Hassan Rouhani on the sidelines of the UN General Assembly meeting in New York.
For his part, Rouhani said, "We will not be the first to violate the JCPOA [the official name for the nuclear deal] and we hope that other countries remain committed to their legal and moral obligations."
Except the U.S. under the Trump administration, all signatories to the nuclear deal – the five permanent members of the UN Security Council, Germany and the European Union - have been insisting on the full implementation of the nuclear deal. On Tuesday U.S. President Donald Trump used his debut speech at the UN to make the harshest attack against the nuclear deal.
Rouhani said the nuclear deal was reached after long negotiations and seven countries' efforts and should not be harmed just by one country.
The agreement went into effect in January 2016.
Abe wishes to visit Iran soon
During his talks with Rouhani, the Japanese leader also expressed hope that he would visit Iran in near future.
Abe also said that the Japanese government seeks to have cooperation with Iran in various areas.
Rouhani also said that Iran welcomes expansion of relations with Japan in various spheres.
The Iranian president also highlighted the necessity of expanding cooperation with Japan in the area of environment protection.
Rouhani says Iran welcomes close ties with Norway
While in New York Rouhani also meet the leaders of several other countries. In his meeting with Norwegian Prime Minister Erna Solberg, Rouhani said that Tehran welcomes expansion of ties with Norway given the opportunities created by the nuclear deal.
"The JCPOA has provided good ground for expansion of Iran's relations with the European Union," he said.
Rouhani also said the nuclear agreement is beneficial to the entire world.
He also called for expansion of banking relations between Iran and Norway.
For his part, Solberg said Norway is determined to use investment opportunities in Iran.
Rouhani also met with Belgian Prime Minister Charles Michel, each side calling for deeper ties.
'Bulgaria can invest in Iran in energy industry'
Rouhani, in his meeting with Bulgarian President Rumen Radev, said that the two countries should expand economic ties and Bulgaria can invest in Iran's energy sector.
Radev also said that Iran and Bulgaria have always had good relations in various areas of economy, politics and culture.
'Rouhani hold talks with new Pakistan PM
Also in a meeting with new Pakistani Prime Minister Shahid Khaqan Abbasi, Rouhani said that Iran attaches great importance to its friendly ties with Pakistan and seeks to expand relations in various spheres.
He highlighted the necessity of expanding cooperation in boosting security in border areas.
The Pakistani prime minister also called for expansion of relations with Tehran.
NA/PA