By Seyyed Mostafa Mousavi Sabet
Iranian writers welcome Nobel prize for Kazuo Ishiguro
October 6, 2017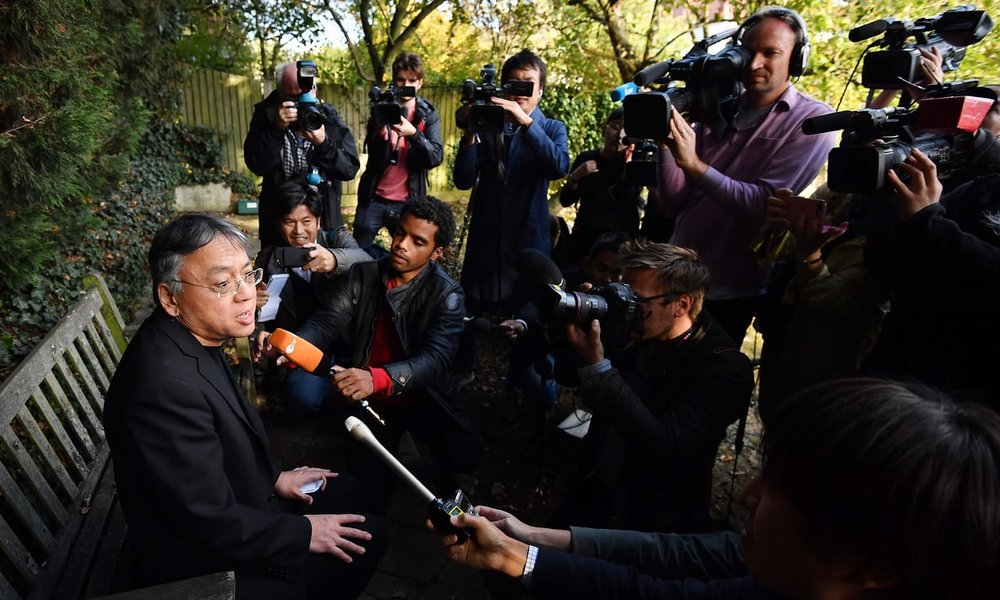 TEHRAN – Iranian writers are happy with the Swedish Academy's decision to present the Nobel prize in literature to Japanese-born Briton Kazuo Ishiguro who has been introduced to Persian readers with nine of his novels.
The writers spoke to some Persian news agencies, commenting on the decision and Ishiguro on Thursday just hours after the academy announced the winner.
"The choice of this writer as the winner of the Nobel prize in literature is the academy's response to its decision last year," Soheil Somi told the Persian service of MNA.
Somi who has translated Ishiguro's "Never Let Me Go", "The Unconsoled" and "The Buried Giant" added that the decision represents a change in the academy's tendency to honor "the special writers."
"The academy adopts certain policies every year to select a writer as the winner of the Nobel prize in literature, but if you ask me to choose between Kazuo Ishiguro and Philip Roth, perhaps I would tell you that Roth is more deserving of the prize," Somi stated.
"However, my comment never undermines the great value of Ishiguro's works," he noted.
A Persian translation of "Never Let Me Go" by Mehdi Ghabrai has also been published by Ofoq.
"I don't suppose that anyone was annoyed by this choice," Ghabrai told the Persian service of ISNA.
He praised Ishiguro and said that he certainly deserved the prize and added, "I have read most of Ishiguro's works translated into Persian and I like the version of 'The Remains of the Day' rendered by Najaf Daryabandari."
Speaking to ISNA, Ahmad Puri, an Iranian translator of Russian literature, also expressed his happiness over Ishiguro's win.
"Ishiguro is his due to receive the prize," he said and added, "Bon appetite!"
"He enjoys an acute mind and is a matchless writer with great skills and I am happy about his win," he noted.
Due to an opinion that traditionally views the Nobel peace prize decision as highly political, Puri said the academy seems to have made "blunders" at times, "but they seem set to break new ground."
Puri also made a comment concerning those people who criticize the academy for selecting most of their winners from European writers.
"It should not be viewed as discrimination; it is natural if a society is culturally developed, there will be a rise in the number of its writers," he noted.
Iranian poet Zia Movahhed who is also the author of numerous publications on philosophy said that the Swedish Academy make the decision to award a Nobel prize in literature under the influence of political and ideological issues.
"However, we should not voice any doubt about the winners' expertise in literature," he noted in an interview with the Persian service of ILNA.
He said that due to its political and ideological outlook, the academy ignored Iranian poet Ahmad Shamlu, who otherwise deserved a Nobel prize in literature.
Persian readers, Kazuo Ishiguro
All Ishiguro's novels have been published in Persian. He was introduced to Persian readers for the first time in 1996 by Najaf Daryabandari who gave a translation of his "The Remains of the Day".
In 1999, his "A Pale View of Hills" and "A Village After Dark" translated by Amir Amjad and Elham Purnazari respectively came out.
A Persian translation of "When We Were Orphans" by Mojdeh Daqiqi was published by Hermes in 2000. A new translation by Majid Gholami-Shahedi was released in 2016.
There are three Persian versions of "Never Let Me Go". Soheil Somi gave the first one in 2004. The second and third ones came in 2007 and 2016 by Mehdi Ghabrai and Fatemeh Amini respectively.
Somi also translated "The Unconsoled" in 2006.
In 2008, Khojasteh Keihan and Alireza Keivaninejad provided two translations of Ishiguro's short story collection "Nocturnes". Another translation of the collection was published by Ghabrai in 2014.
"An Artist of the Floating World" came to Iranian bookstores for the first time in 2012. Yasin Moahammadi is the translator of the book. Another translation by San'an Seddiqi was published in 2015.
Besides Somi, Farmeht Amirdoost and Amir-Mehdi Ahqiqat translated Ishiguro's latest novel, "The Buried Giant".
Photo: Ishiguro attends a press conference outside his London home on October 5, 2017 after winning the Nobel prize in literature. (AFP/Getty Images/Ben Stansall)
MMS/YAW