Iran-Turkey trade to hit $30b soon
October 22, 2017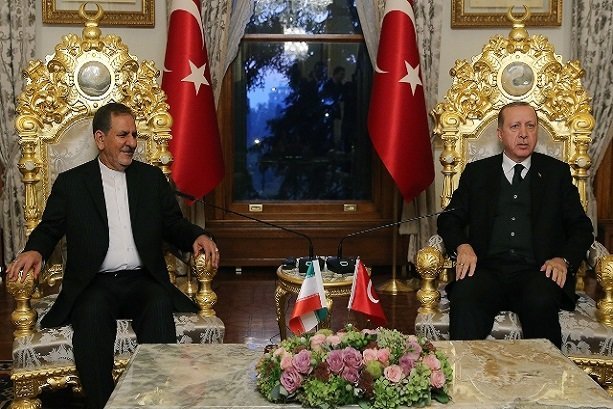 TEHRAN- Iranian First Vice-President Es'haq Jahangiri and Turkish President Recep Tayyip Erdogan stressed that through the all-out planning underway by the two countries the target of $30-billion bilateral trade will be achieved soon.
Iran-Turkey current trade stands at $10 Billion.
In a meeting with Erdogan in Ankara on Friday, Jahangiri said Iran and Turkey as two large countries in the region enjoy many capabilities and potentials that should be used to strengthen bilateral relations and emphasized that his country is determined to expand its ties with Turkey in all areas, IRNA reported.
He said paving the way for encouraging the both sides' private sectors to broaden cooperation is a necessity and announced that in this regard, Iran-Turkey Joint Economic Committee meeting will be held soon.
The Iranian official further voiced his country's readiness to meet the energy needs of its neighbor and said: "We are prepared to boost our oil and gas exports to Turkey."
Erdogan, for his part, stressed Ankara's strong will for expanding ties with Tehran in all fields and said: "Through removing the barriers, we should benefit from each other's capabilities and experiences to boost our relations."
He also said that his country is willing to buy more oil from Iran.
The Turkish president further mentioned expanded tourism cooperation between Turkey and Iran a necessity.
MA