Hariri makes surprise resignation under Saudi pressure
November 4, 2017 - 17:37
Lebanese Prime Minister Saad Hariri has announced his resignation in a speech broadcast from Saudi Arabia.
Saudi Arabia urged Lebanon government last week to take action to curb the Lebanese resistance group Hezbollah.
Hariri announced his resignation in a televised statement on Saturday, citing many reasons, including the security situation in Lebanon, for his sudden decision.
He also said that he sensed a plot being hatched against his life.
Lebanese President Michel Aoun's office said that Hariri had phoned him "from outside Lebanon" to resign and that Aoun awaited Hariri's return to hear the "circumstances of the resignation."
Hariri announced his resignation following his visits to Saudi Arabia.
The resignation also comes less than a month after he announced plans to join a coalition government with Lebanese Resistance Movement Hezbollah.
He became prime minister in 2016 after serving another term between November 2009 and June 2011.
Saad Hariri is the son of former Lebanese prime minister Rafiq Hariri, who was assassinated in 2005. Hariri has also been the leader of the Future Movement party since 2005.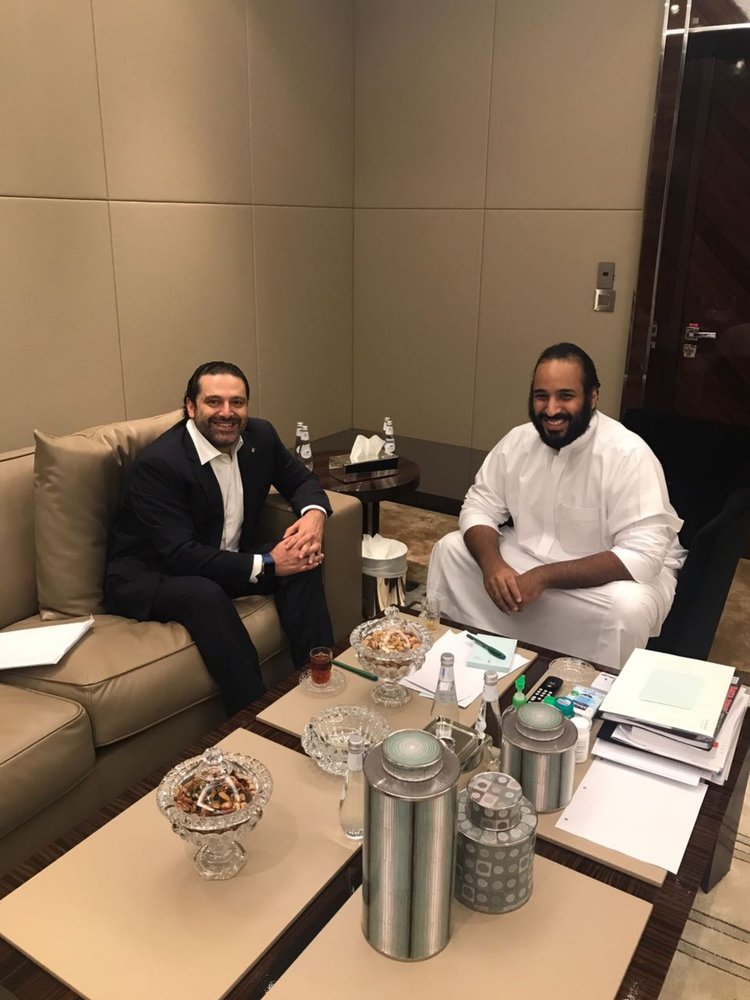 Saudis Interfere in Lebanon affairs
Last week Saudi Arabia has urged the Lebanese government to take action to curb the Lebanese resistance group Hezbollah.
Saudi Minister of State for Persian Gulf Affairs Thamer al-Sabhan censured the Beirut government's "silence" on what he called Hezbollah's "war" against the Persian Gulf kingdom.
"What is weird is the silence of the [Lebanese] government and people on that," Sabhan wrote on Twitter in what observers believe is bound to embarrass the government of Prime Minister Saad Hariri, which includes representatives of Hezbollah and its allies.
Sabhan's statements came on the same day Hezbollah MP Nawaf Musawi denounced Saudi Arabia for financing media campaigns to vilify the party in the lead-up to next year's parliamentary elections.
"Saudi Arabia has earmarked a budget to smear Hezbollah. What's new in the Saudi campaigns against Hezbollah is that they are launched directly from the mouths of the Saudi regime after they were launched from the mouths of allies or friends in Lebanon," Musawi said during a Hezbollah rally in south Lebanon.
"The campaigns against Hezbollah are not new ... therefore, we say that these campaigns will escalate, particularly in the election season," he added.
Sabhan has repeatedly attacked the resistance movement, but this is the first time he has directly criticized the Hariri government.
Sabhan said in a tweet last month that the Lebanese will have to choose between backing the resistance movement or opposing it.
Last week, the Saudi minister hailed new U.S. sanctions against Hezbollah and renewed his call to confront the party by force.
"All of those who work and cooperate with it politically, economically and through the media should be punished," Sabhan said. "There should be serious work to tame it internally and externally and to confront it with force."
Sabhan has previously called for the formation of an international military coalition against Hezbollah which has been a thorn in the side of Israel for years. On October 26, the U.S. House of Representatives endorsed new sanctions on the resistance group.
Hezbollah was founded in the 1980s following the Israeli invasion and occupation of southern Lebanon. The movement waged a long resistance campaign against Zionist troops and pushed them out of southern Lebanon in May 2000. Since then, the group has grown into a powerful military force. Israel also suffered a humiliating defeat against Hezbollah in a war in 2006.
Hezbollah has also supported the Syrian army in its fight against foreign-sponsored terrorists, including those supported by Saudi Arabia who have suffered serious defeats in recent years.