By Javad Heirannia
Amano's position is different from Nikki Haley: Fitzpatrick
December 2, 2017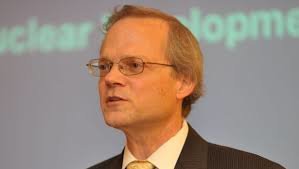 TEHRAN - Mark Fitzpatrick, director of the non-proliferation program at the International Institute for Strategic Studies (IISS), says that "Amano's position remains different from that of Amb Haley.  She wants the IAEA to seek access to military sites whether or not there is any reason for suspicion."
"Amano wants access when he has some evidence that needs to be checked out, as spelled out in the JCPOA," Fitzpatrick told the Tehran Times in an exclusive interview.
Following is the full text of the interview:
Q: According to this, what means "complementary access inspections to sites and locations in Iran"? Is this access beyond the Additional Protocol?
A: "Complementary access" is an important verification tool provided for under the Additional Protocol. "Complementary" means access that is complementary to the access required by the standard safeguards provisions. It allows IAEA short-notice access to, all buildings on a nuclear site. The U.S. Statement asked the IAEA to use the verification tools that it is already using.
Q: Why U.S. again try to bring up Iran PMD Case in IAEA?
A: Many Americans, including in the Trump Administration, believe that the PMD issue was not satisfactorily concluded in 2015. At that time, the IAEA determined that Iran's answers about the purpose of a particular building at the Parchin military site were false and that Iran had, in fact, pursued a military nuclear program. The evidence included the discovery of man-made uranium particles at Parchin. Yet, the IAEA has not attempted to further investigate the origin of these man-made uranium particles. Because Iran has never come clean about its past history of military nuclear activity, the Trump Administration is concerned that Iran will resume such military nuclear activities once the limits of the JCPOA are terminated. In short, the PMD issue is one reason the US does not trust Iran. Until it is clarified, it will remain a problem.
Q: IAEA Director General ask Iran for "more" verification about Section T. It seems that Director General Yukiya Amano' message is closing to Nikki Haley, United States Ambassador to the United Nations. What is your opinion?
A: Amano's position remains different from that of Amb Haley. She wants the IAEA to seek access to military sites whether or not there is any reason for suspicion. Amano wants access when he has some evidence that needs to be checked out, as spelled out in the JCPOA. But he cannot dismiss her position; he naturally has to listen to the views of the agency's largest funder. On the other hand, he has to listen to all member states, including Russia, which takes the strange position that the IAEA has no mandate to verify Section T. This is wrong, because US Security Council Resolution 2231 asks the IAEA to verify all nuclear-related aspects of the JCPOA. This request did not exclude Section T. When Amano asked for clarification of the IAEA role regarding Section T, he was speaking about problems not with Iran but with Russia.
Q: What will happen for JCPOA if Iran limited from benefiting of the agreement?
A: I can understand Iran's frustration with U.S. statements that are not consistent with the JCPOA, but these are not material breaches of the agreement. And although some foreign firms remain reluctant to enter into trade and investments with Iran, there are several reasons for this, including the opacity of Iran's banking system and regulatory structure. In any case, Iran continues to receive significant benefits from the JCPOA, including unrestricted oil sales. If those sales were again restricted, then I think it would mean the end of the JCPOA, and a return to the tension that prevailed before negotiations ensued in earnest in 2013. If under these circumstances Iran resumed uranium enrichment at 20% and stopped implementing the Additional Protocol, then war would once again be a significant possibility.