Iran dismisses Israeli drone claim as 'ridiculous'
February 11, 2018 - 20:0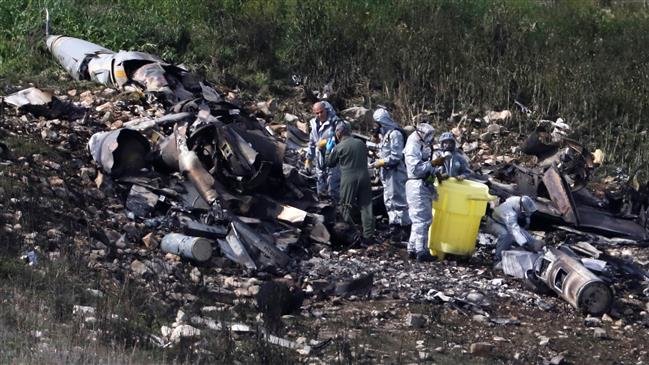 TEHRAN – Iran on Saturday rejected as "ridiculous" claims by the Israeli regime that it had intercepted an Iranian drone launched from Syria, stressing the Islamic Republic's military advisory presence in Syria is at the request of the "legitimate" Syrian government.
"Claims about the flight of an Iranian drone … are too ridiculous to be addressed because the Islamic Republic of Iran has advisory presence in Syria at the request of the country's legitimate and constitutional government," Foreign Ministry spokesman Bahram Qassemi said.
"The government and army of Syria as an independent country have a legitimate right to defend [the country's] territorial integrity and counter any type of foreign aggression," Qassemi added, Press TV reported.
Blame game
The spokesperson further said that the "illegitimate" Israeli regime cannot cover up its atrocities and crimes against Muslim nations in the region by playing a blame game and spreading lies.
On Sunday, Secretary of Iran's Supreme National Security Council Ali Shamkhani also rejected the Israeli claims as a lie.
"The claim by the Zionists to damage Iranian bases in Syria is a lie," Ali Shamkhani told reporters in Tehran on the sidelines of the rallies marking the anniversary of the Islamic Revolution victory.
Iran has "advisory, not military presence" in Syria, the top security official emphasized.
The remarks came after the Syrian military said it had hit at least one intruding Israeli F-16 warplane that attacked positions inside Syrian territory, sending it down in flames and smoke.
'Era of hit and run is over'
"The Syrian nation proved this time that it will respond to any act of aggression, as the era of hit and run is over," Shamkhani pointed out.
Syrian TV cited a Syrian military official as saying that Syrian aerial defense had responded to Israeli "aggression" against an army base in central Syria.
The Israeli military confirmed that one F-16 had gone down in northern Israel, and that its two pilots had ejected and had been located and transferred to hospital.
The Israeli army said later that one of the pilots was in serious condition, according to The Jerusalem Post.
Brigadier General Hossein Salami, the Islamic Revolution Guards Corps (IRGC)'s second-in-command, also said rejected the Israeli claim, saying "the Israelis are liars."
He stressed that Iran had no military presence in Syria and that the Syrian Army was adequately capable of defending Syrian territory.
Iran can create a hell for the Zionist regime of Israel, the commander said, adding that all American military bases in the region are within range of Iranian strikes.
MH/PA