By Mehdi Sepahvand, Tehran Times Political Editor
Zarif calls Netanyahu's theatrical move 'cartoonish circus'
February 18, 2018 - 20:21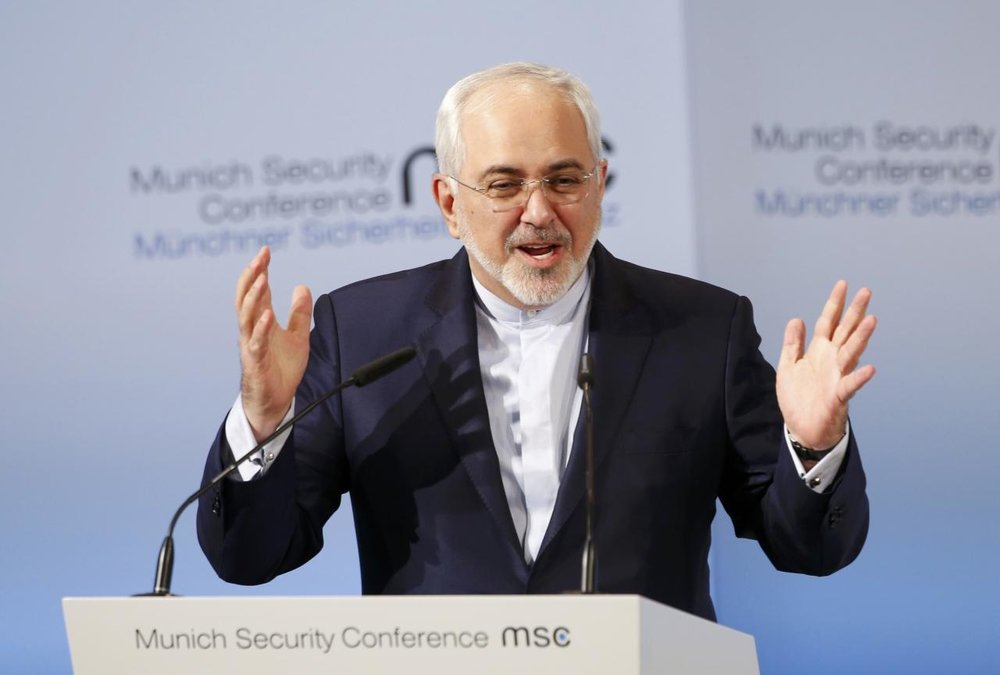 MUNICH – During a hateful speech at the Munich Security Conference on Sunday, Benjamin Netanyahu held up a remnant of what he said was a piece of an Iranian drone shot down by Israel earlier this month, a theatrical move which Iranian Foreign Minister Mohammad Javad Zarif likened to "cartoonish circus".
"You were the audience for a cartoonish circus just this morning, which does not even deserve the dignity of a response," Zarif told the Munich Security Conference later.
Netanyahu used the security conference to make military threats against Iran, saying "We will act if necessary not just against Iran's proxies that are attacking us but also against Iran itself."
Earlier this month, the Syrian military shot down at least one intruding Israeli F-16 warplane that attacked positions inside Syria. Israel claimed that it had launched those assaults after it intercepted an "Iranian drone" launched from Syria, an accusation rejected by Tehran as "ridiculous."
In addition to Netanyahu's accusations, Saudi Arabian Foreign Minister Adel al-Jubeir claimed during his speech at Munich on Sunday that Iran has trained several terrorist factions and conducted terrorist operations around the world.
Zarif said, "The U.S. and its local clients in our region are suffering from the natural consequences of their own wrong choices. But they use this and other fora to revive the hysteria on Iran's foreign policy and obscure its reality."
In his speech, Netanyahu also drew a parallel between the 1938 Munich Agreement, seen as a failed attempt to appease Nazi Germany, and the 2015 Iran nuclear deal. He said the deal had only "unleashed a dangerous Iranian tiger", against which "we will act without hesitation to defend ourselves".
Former U.S. Secretary of State John Kerry later insisted that Netanyahu's assertion that Iran would be on its way to a nuclear bomb within a decade was "fundamentally not accurate".
SP/NA/PA