U.S. reviving terrorists in Mideast, North Africa: Shamkhani
February 23, 2018 - 11:11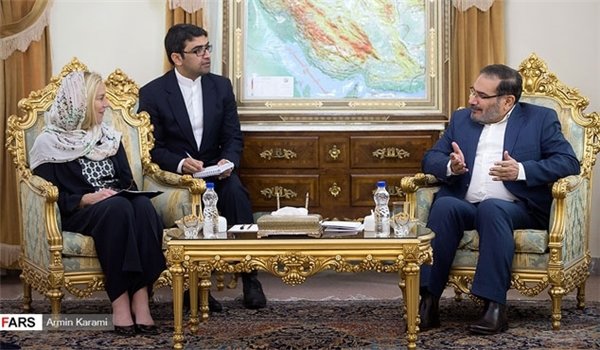 TEHRAN – The Secretary of Iran's Supreme National Security Council (SNSC) has warned that Washington is reviving terrorist groups in the Middle East and North Africa.
"Extensive evidence suggests America's endless effort to revive armed terrorist groups in the region and North Africa," Ali Shamkhani said at a meeting with Dutch Foreign Affairs Minister Sigrid Kaag in Tehran on Wednesday.
He also condemned U.S. efforts to undermine the nuclear deal, saying the U.S. National Security Strategy and Nuclear Doctrine is a major threat to global peace and violates the United Nations Charter.
During the meeting, the two sides also discussed the cooperation between Iran and the Netherlands in different fields and the latest developments in security area.
Shamkhani welcomed expansion of bilateral relations between Iran and the Netherlands in all economic, commercial and political arenas, adding Iran-EU relations will benefit peace and stability in the world.
Sigrid Kaag, for her part, voiced her gratitude to the Islamic Republic's compliance with its commitments under the nuclear deal, saying the implementation of the deal will benefit the people of the two countries politically and economically.
During her visit to Iran, Kaag also met with other top Iranian officials including President Hassan Rouhani and Foreign Minister Mohammad Javad Zarif.
MH/PA