FIFA President Infantino invites Hassan Rouhani to World Cup
March 1, 2018 - 23:18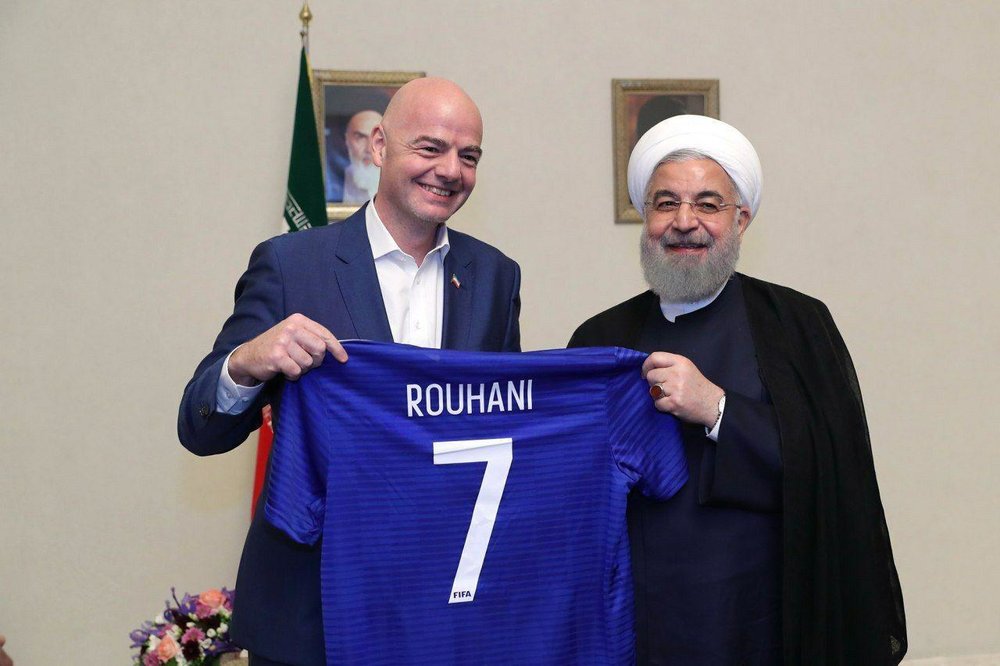 TEHRAN – Iran President Hassan Rouhani has been invited to attend the opening ceremony of the 2018 FIFA World Cup by FIFA President Gianni Infantino.

Infantino traveled to Tehran Wednesday night to attend a ceremony to celebrate 100-year anniversary of Iran football federation.

The Swiss-Italian also shared the pitch with ex-Iranian stars in a futsal match before attending Tehran derby between Persepolis and Esteghlal, where Esteghlal won the match 1-0 in Tehran's Azadi Stadium.

Infatinio participated at a joint news conference with Iranian sport minister Masoud Soltanifar, saying the diplomatic rift between Saudi Arabia and Iran should not be allowed to get in the way of football.

"There are of course political issues between countries all over the world but this should not have an impact on the football tournament. The solution is always just to play home and away like in every competition in every country," he said.

"The people of Iran, like any other nation, have the right to cheer their teams at their stadiums, and we, as the international federation of football, will try to defend this right," Infantino added.

Infantino also held a meeting with Rouhani later on Thursday.

"With regard to the appeal of football for nations and especially young people, the FIFA can play a significant role in bringing nations closer together. Fortunately, today the Iranian people, especially the younger generation, are very interested in sports and especially football, and sport events are followed by a lot of excitement, which you will see in the competition between the two most popular football clubs in the capital today", Rouhani said.

Stressing that the government of the Islamic Republic of Iran has always tried to provide more and more access to sport, he said: "Public and professional sport activities are increasing in our country today, and national teams of Iran take part in various fields of sport at global levels, including the presence of Iranian national football teams at all levels in regional and global competitions".

The president also referred to the passionate presence of women in various fields of sport, especially football, and said: "Today, Iranian women are present livelier in sport fields, including 23,000 women athletes in football".
"Iran is a safe country and is ready to host regional and international sports and groups," said Rouhani, pointing out that regional federations should seek to bring nations closer together and increase friendships.
The president also emphasized the need for FIFA to promote the rights of nations to watch their favorite teams in their stadiums and country".
Gianni Infantino expressed satisfaction over meeting with the President of the Islamic Republic of Iran and said: "Football has an important social role worldwide, and the Iranian people are truly among the most passionate fans of football in the world".
"FIFA is always looking to improve the world through sports and will not hesitate to help improve the level of football in Iran".