Leader plants saplings to highlight natural resources
March 6, 2018 - 18:29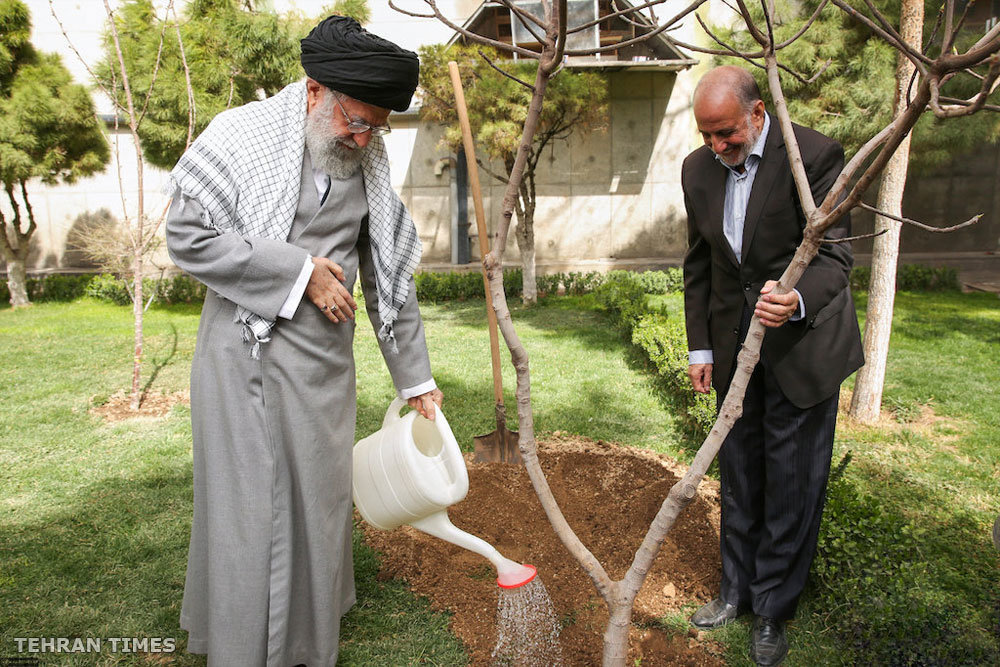 TEHRAN — Leader of the Islamic Revolution Ayatollah Seyyed Ali Khamenei on Tuesday planted two fruit saplings, urging officials to take measures for increasing green spaces as it can prevent floods and curb sand and dust storms.
He made the remarks on the occasion of the National Week of Natural Resources (March 6-13) and concurrent with the National Tree Planting Day after having planted two fruit saplings.
The leader deemed the National Tree Planting Day as an auspicious occasion and highlighted the numerous importance of the plants, forests and rangelands in cleansing the air, embellishing the living environment, and producing useful products for the human beings urging the officials to stop urban vegetation destruction.
Many are trying to exploit and trespass gardens in Tehran and it should be prevented as it can inflict harm on the urban life, he noted.
1200-hectar green belt in Tehran
A 1200-hectar green belt around Tehran was opened in President Hassan Rouhani's presence on Tuesday to celebrate Natural Resources Week.
With the aforesaid project, the area of the green belt around Tehran reached more than 40 thousand hectares.
"Unfortunately, millions of meters of forest and pastures have been destroyed in the past years," president regretted.
Underlining the fact that Iran's per capita forests and pastures is less than world average, Rouhani stated that "We need to make more efforts to eliminate these shortcomings."
"The implementation of this project is of great importance and is very effective in protecting the environment and preventing the undue expansion of Tehran," he highlighted
"Deforestation has a great impact on the environment and is a major contributor to air pollution, sand and dust storms and desertification," he pointed.
He went on to say that "to deal with the dust storms we can plant trees, I invite people from all walks of life and environmentalists to participate in planting trees and encourage people to do so in a variety of ways."
The President also planted a sapling in north-eastern Tehran to mark the National Tree Planting Day.
MQ/MG