Jahanbakhsh: Mahdavikia is my idol and mentor
March 9, 2018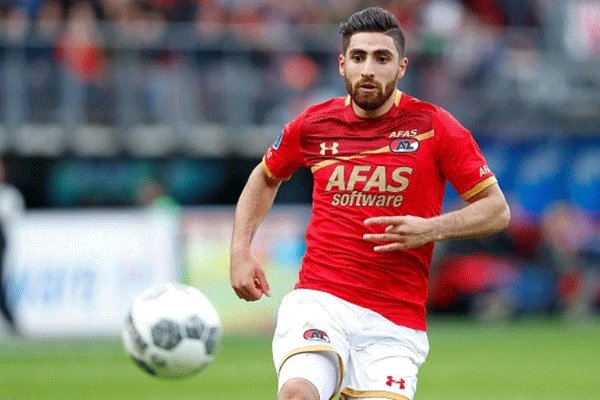 Popular wisdom tells us 'don't meet your heroes', as we will only end up denting and tarnishing the flawless image we have built of them. While that's true for many, IR Iran rising star Alireza Jahanbakhsh is a clear exception to the rule.
Aged just 17 and beginning to make a name for himself back home, the young winger crossed paths with arguably Team Melli's greatest ever wide player – Mehdi Mahdavikia – and has attempted to trace the star's footsteps ever since.
"Back when I was starting out in football, Mehdi was one of the greatest players in our national team," the AZ Alkmaar man explained to FIFA.com. "I got the opportunity to play with him at my old club in Iran – Damash Gilan – and he was such a great guy."
While it would be a merging of stories that would only last six months on the banks of the Caspian Sea in 2011, the legend who made his name at the 1998 and 2006 FIFA World Cups was quick to take the youngster under his wing.
"I always tried to talk to him to get his opinions on football, about life, about everything – I would just keep asking questions [laughs]!" Jahanbakhsh recalled of the kind-natured legend. "He was always nice to me, he always answered and just showed me the way he had passed through and he was an idol for me both on and off the field.
"I'm still in contact with him and I'm still asking questions of him! I'm still getting his opinions on football, on my career and about any choices I'm facing. Mehdi has always been there for me and I really appreciate that and I'm so happy to have such a mentor."
Alireza rocking in Europe
Just like his predecessor, Jahanbakhsh is making his mark away from home, too. Inspired by the man with over 100 caps to make his way to Europe, the Netherlands has been his chosen stomping ground. In electric form as AZ chase UEFA Champions League qualification, the wide-man has been involved in no fewer than 23 of their 50 goals so far in the league, netting 12 of his own from the flanks.
While effusing modesty as he reflects on how settled he is in the Eredivisie and the "great group" that surrounds him in Alkmaar, the end of the club season will see him arrive as one of the jewels in Iran's crown at Russia 2018. A team transformed since their outing at Brazil 2014, Iran now have a young core that looks set to take Carlos Quieroz's side forward.
"The transition from 2014 to 2018 has been slow but very positive," he said of the side now relying heavily on the likes of he and 23-year-old forward Sardar Azmoun. "We are determined to show the quality of our young players, our ambition and represent ourselves in the best way possible."
Jahanbakhsh in brief
* "I didn't start with football. I tried a lot of different sports: gymnastics, handball, futsal, until the age of 12, when I found out I was also good at football. It was a bit late but I just loved the game."
* "I still remember Iran's qualification in 1998, the memorable game against Australia where we drew 2-2 and we made it to the World Cup. It is also when I found out, as a six-year-old, how important football and the World Cup is."
* "Brazil 2014 was one of my biggest dreams coming true, I just tried to learn from every single minute."
Iberian, African challenges await
This World Cup is already a historic one for Iran, who have never appeared at back-to-back tournaments before. However, their reward for a best-ever qualification from Asia and becoming the second side to win their place in Russia was a fiendish-looking Group B with Spain, Portugal and Morocco.
"Obviously this is the toughest group in the World Cup, there's no doubt about it," he said matter-of-factly. "But it's showtime and we have nothing to lose. All three teams have a lot of quality and are top class, though I don't think we are an easy opponent.
"We know how to play and our coach will have us ready. The World Cup is a tournament where you can just be positive about it; we will do our best to make our people happy."
And with memories of Madhavikia stepping out as 20-year-old at France 1998 now two decades old, Jahanbakhsh hopes similarly fond feelings will echo on about this latest generation. "In ten or 15 years' time, hopefully all the guys in the team will be able to look back on 2018 with their kids and tell some stories about how great it was for us all."
Source: FIFA