Rouhani to Macron: Iran won't accept any restriction beyond JCPOA
April 30, 2018 - 20:38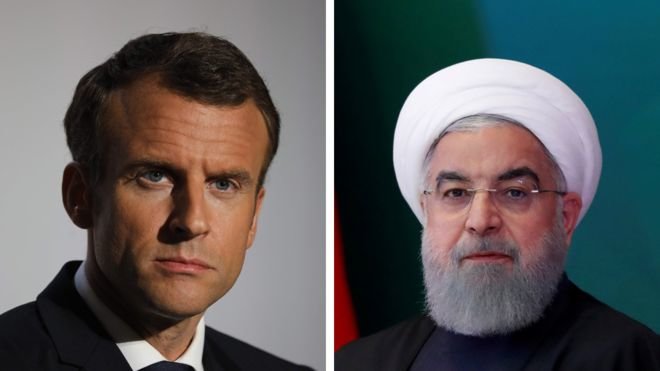 TEHRAN – In a phone conversation with his French counterpart Emmanuel Macron late on Sunday, President Hassan Rouhani of Iran that Tehran will accept no further restrictions on its nuclear program that fall outside the 2015 nuclear agreement, officially known as the Joint Comprehensive Plan of Action.
"The JCPOA and any other issue under its pretext are not negotiable at all," Rouhani told the French president in the phone conversation that lasted for about an hour.
Rouhani said preservation of the JCPOA helps strengthening "regional security and cooperation".
He added, "Our relations are based on trust and the JCPOA is the most important basis for trust among Iran and the Western countries."
In a statement on January 12, U.S. President Donald Trump gave Europeans only 120 days to agree to an overhaul of the nuclear agreement and said if the text of the deal is not revised he would unilaterally withdraw the U.S. from it. The deadline falls on May 12.
Rouhani said the "U.S. stances are clear violations of the agreement which was signed by seven countries".
However, Rouhani said Iran has prepared itself for any eventuality regarding the nuclear deal.
"In recent days, Iran has taken very important decisions in the areas of banking relations, foreign currency and other economic issues and has also designed various measures for any decision that the U.S. would take on May 12."
For his part, Macron said the European Union, especially France, supports the JCPOA and will remain in the deal.
Macron noted that preserving the nuclear deal will lead to trust-building and help the regional security and stability.
"Clear position of France and the Europeans is remaining within the framework of the JCPOA and we want you to remain in the agreement," he said.
He noted, "The EU and France accept the JCPOA as the way it is."
Macron also said that France wants a stable Middle East and believes that the JCPOA is an important model to solve problems in the region.
All sides should remain committed to the deal, he advised.
The French president has said there is no "plan B" for the nuclear accord.
The nuclear parties including the European Union, Germany, Britain, Russia, and China have reiterated their support for the international nuclear agreement which was signed in July 2015 and took effect in January 2016.
'Iran determined to expand ties with France'
Rouhani also said that Iran is determined to expand ties with France in various spheres.
Macron also said his country attaches great importance to the necessity of expanding relations.
Putin, Macron agree on need to preserve nuclear deal

Also, Russian President Vladimir Putin and his French counterpart agreed in a phone conversation on the need to preserve and fully implement the nuclear deal, the Kremlin said in a statement on Monday.
The phone call took place at the initiative of the French administration, the Kremlin statement said.
NA/SP/PA