By Majid Ghahremani
Would French President visit to Tehran take place in the near future?
February 18, 2018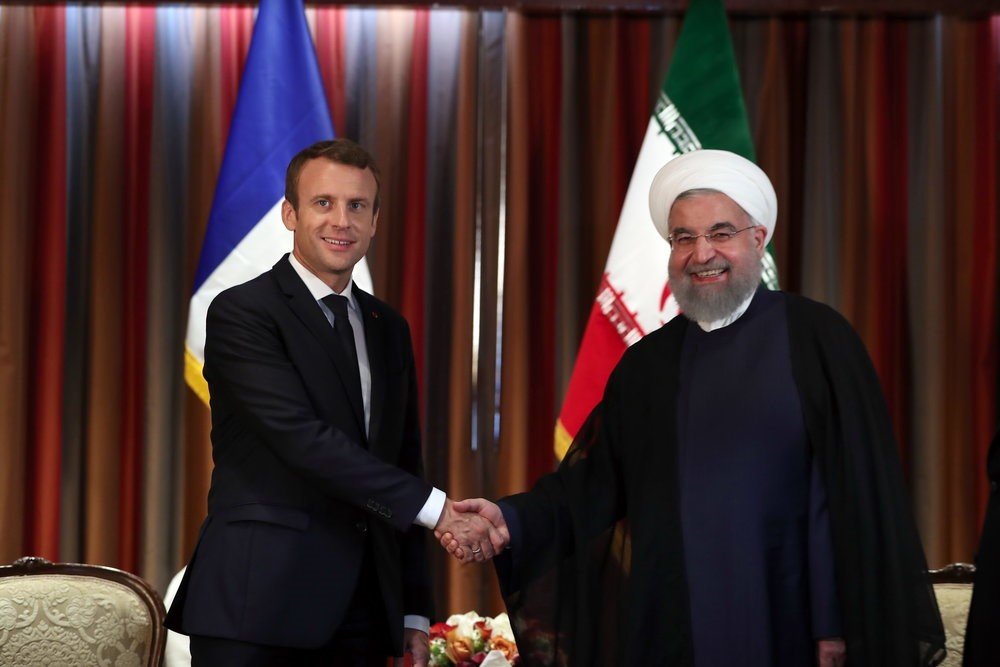 TEHRAN - Emmanuel Macron, at the age of 39, became the youngest President in the history of France on May 7, 2017 and has tried to be a different president. Macron was a relative newcomer to foreign policy when he became president, but his appetite for it has been large.
In his first major foreign policy speech on Aug 29, 2017 he called on his ambassadors to convey the message of a "stronger, more unified and more open" France. He said he backs the landmark 2015 Iran nuclear deal or JCPOA and "there is no alternative to the non-proliferation agenda". He later on said that it would be an error to scrap this deal.
Macron in a meeting with Iranian President Hassan Rouhani (age 69) on the sidelines of the 72nd session of the UNGA in New York said initially that Paris planned to support the current nuclear deal and adding that any negotiation of the agreement would be "meaningless."
Just one day after Donald Trump speech later, Macron's assessment appeared to change. While he still said that he would prefer that President Trump dials back the rhetoric — and even offered to mediate between Iran and the United States — Macron said that the current deal was clearly "not enough"! He said he wanted to discuss possible sanctions over Iran's ballistic missile program, open negotiations immediately on what happens after the limitations to the accord begin to be lifted in 2025 and hold a discussion on the role of Iran in the region. The French leader said he believed he had managed to at least convince Trump to allow France and the United Nations to play a mediation role between Tehran and Washington with regard to the situation in Syria.
President Trump in his first address to the United Nations General Assembly signaled he is close to ditching the Iran nuclear agreement struck by former President Barack Obama, by saying the deal is an "embarrassment to the United States".
Iranian President Hassan Rouhani ripped President Trump's speech to the United Nations General Assembly as "ignorant, absurd and hateful," charging that "It will be a great pity if this agreement were to be destroyed by rogue newcomers to the world of politics". "The world will have lost a great opportunity, but such unfortunate behavior will never impede Iran's course of progress," Rouhani said.
Trump's tough talks opened the door for Macron's diplomacy and suddenly Macron hardly tried to mediate a meeting between Trump and President Rouhani. But Iranian President turned down a meeting with President Trump and rejected a request from the Americans side.
"Is this agreement enough? No. It is not, given the evolution of the regional situation Macron told reporters in New York. "Let's be honest, the tensions are on the rise. We need a clear framework to be able to reassure regional countries and the United States," Macron said, adding that he was ready to mediate between," the United States and Iran. Thereafter, France put the steps further and French foreign minister Jean-Yves Le Drian suggested to reporters that there could be talks to strengthen the Pact for the post-2025 period but that allowing it to collapse could lead Iran's neighbors to seek atomic weapons. France's Ambassador to the U.S. Gerard Araud also said, under a French idea, sanctions would be reinstated automatically in the event of non-compliance, avoiding the threat of a veto.
In fact, what French President and other officials were doing was not only for Iran, the U.S. or the Region, they wanted France remain the forefront, most significant and ambitious foreign policy actor in the EU and in absence of UK after Brexit. At the same time Macron is trying to make an unwritten deal with Mr Trump between Paris climate accord and with the 2015 nuclear deal or JCPOA.
To pave the way for this possible deal, Macron worked hard to be close to Trump. Despite Trump's staggering unpopularity in France — not to mention the outrage over Macron's decision to invite his American counterpart to this country's signature national holiday — the newly minted French president appeared to make a daring gamble. With the United States increasingly isolated on the global stage, Macron sought to position himself as Trump's principal interlocutor in a region that has shown the White House little but disdain. Later Trump said that "France is America's first and oldest ally and a lot of people don't know that".
Despite the historic "special relationship" between the United States and Britain, Trump has shown little interest in British affairs since his inauguration, further delaying a traditional visit to that country. And although German Chancellor Angela Merkel recently tried to patch things up with Trump at the Group of 20 Summit in Hamburg, she has done little to hide her distaste.
Paris has been very active in recent months in several important Middle East crises and in fact, Macron and Trump speak by phone at least once a week. The two have several things in common which make this connection a natural one: Both came from outside the traditional party system, both like to boast that they plan to keep their promises and, as some Parisians say, the fact that Macron is a man gives him an edge in dealing with today's Washington.
Macron's continuous improvement behavior regarding the U.S. and Paris advocated for stronger and more sanctions against Iran specially in his new year address to foreign diplomats at the Elysee Palace in Paris (Jan.4,2018) was criticized by a top adviser to Iran's supreme leader. Ali Akbar Velayati said: "To sustain its international credibility, France should not blindly follow the Americans."
After these critical words, Macron and Rouhani had a phone call and "a trip to Iran by the president, at the invitation of President Rouhani, has been considered," the Elysee said.
On 11 January 2018 and 48 hours before the so called ultimatum by U.S. President, Donald Trump said the U.S. could "conceivably" return to the 2015 Paris climate accord if an agreement treated America more fairly. Two days later and on Friday Trump announced his decision to disavow the Iran nuclear agreement and has given European Allies 120 days to agree to a new deal or said the U.S. will pull out. He also used some French prior requests like- not just for ten years, but forever.
Jean-Yves Le Drian is set to travel to the Islamic Republic of Iran in the next few weeks )5th of March) and some should expect him possibly to prepare for President Macron's state visit to Tehran. Macron's visit to Iran would be the first by a French head of state or government since 1971.
In this regard it is necessary to say openly that if Macron is supposed to visit Tehran in context of U.S. president's frustrated words and so-called ultimatum and conditions, we should say "he is not welcomed", and better to do this visit after 10th of May (when so-called 120 days finishes) or his first year of his Presidency at Elysee. But if he wants to visit Tehran in the context of the EU and especially French independence policies, the Iranian officials are ready to receive him warmly and talk with him about many things and especially about French foreign policy contradictions.