Iran unveils European-made SAR helicopters
May 26, 2018 - 21:34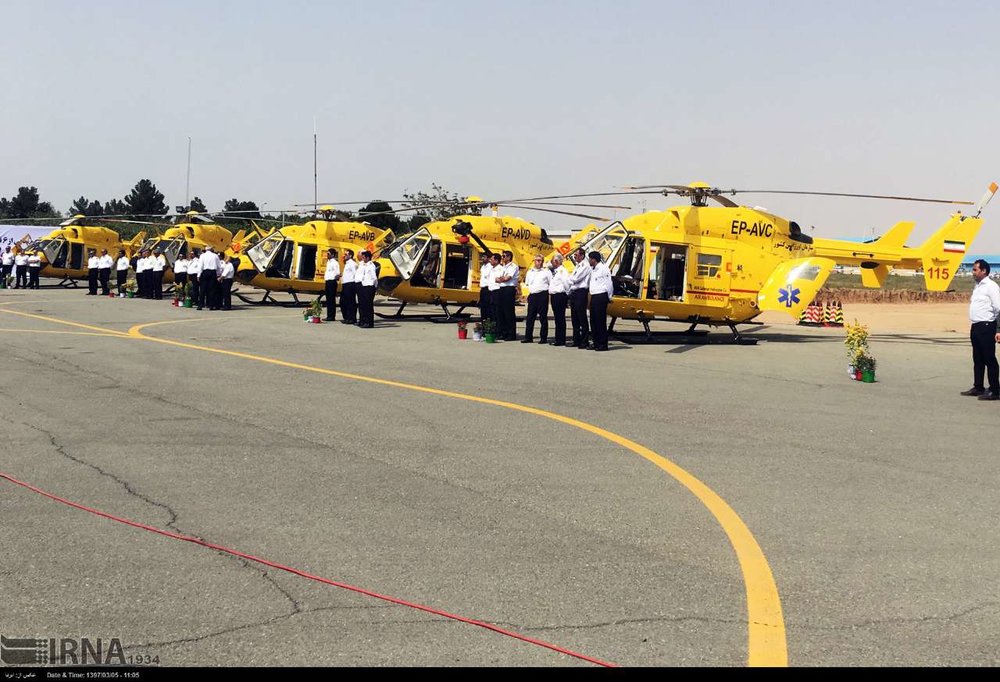 TEHRAN — Six European-made search and rescue (SAR) helicopters which are to be used for the first time in Iran were unveiled on Saturday at Payam Airport in Alborz province, IRNA reported.
The SAR helicopters, which are used to search for and provide aid to people who are in distress or imminent danger, are European-made and have been purchased over the past two years.
These Airbus helicopters have advanced equipment such as modern stretcher and special devices for patient's resuscitation.
Air medical services necessary
"Given the geographical features of Iran and high rate of road accidents in the country, providing urgent medical service to victims of traffic-related accidents is necessary. To do so, it is essential to develop and strengthen air medical services," Ali Sadr-o-Sadat, deputy health minister for management and resources development said on the sidelines of the unveiling ceremony.
"Every year, some 40,000 deaths in Iran are related to different accidents and traffic-related accidents are the leading causes of such deaths," Sadr-o-Sadat regretted.
"Despite the efforts taken to improve road safety, increase the safety of vehicles and promote safe driving culture, the death toll is still high among Iranian citizens," he said.
"Iran is one of the largest countries worldwide, which is covered with deserts, mountains, plains, and coasts. Due to such geographical features, providing medical services through roads could be difficult. For this reason, the air medical service requires to be developed," Sadr-o-Sadat explained.
"Currently, ninety percent of the world's medical emergencies use this type of helicopter in air medical services. And we strive to purchase a number of them in the near future," he highlighted.
On May 21, Iran's forensics organization reported that 1,034 individuals lost their lives in road crashes during the New Year holidays from March 16 to April 4, indicating a 24-percent rise year on year.
FB/MQ/MG