Rouhani felicitates Lebanon on Liberation Day
May 28, 2018 - 3:26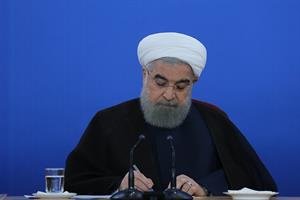 TEHRAN – On Sunday, President Hassan Rouhani sent a message to his Lebanese counterpart offering congratulations on Liberation Day.
The Zionist regime was forced to pull out of southern Lebanon on May 25, 2000, after long years of resistance by Hezbollah. The date is marked as Liberation Day in Lebanese calendar.
"I offer my sincerest congratulations to your Excellency and the friend, brotherly Lebanese nation on the anniversary of liberation of southern Lebanon from the occupation of the Zionist regime," Rouhani said, the official website of the Iranian Foreign Ministry reported.
"Without a doubt, Lebanon is at the forefront of fighting the Zionist regime's greed and in doing so, coordination and unity of the golden triangle of government, army and resistance had a significant role in this great victory," he explained.
MH/PA