IRGC general: Hezbollah able to fire 100,000 missiles at Israel
June 8, 2018 - 17:23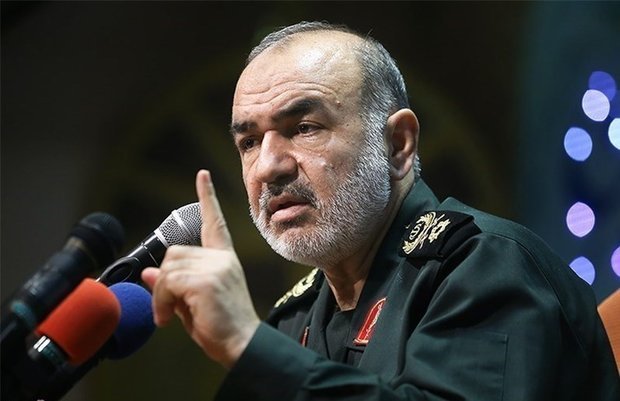 TEHRAN – Brigadier General Hossein Salami, the Islamic Revolution Guards Corps (IRGC)'s second-in-command, said on Friday that Hezbollah resistance forces are capable of firing 100,000 missiles at Israel.
Addressing demonstrators at Quds rallies in Mashhad, Salami said the Islamic Republic has thwarted Israel's plan to expand its borders and foiled U.S.-Israeli plots against the region.
"It has been 70 years that a poisonous dagger (Israeli regime) has gone deep into the flank of the Islamic Ummah (community), and all the tragedies of the Islamic world are due to the existence of the fake and rootless regime of Israel," Tasnim quoted Salami as saying.
'Critics of missile program either stupid or malignant'
Brigadier General Amir Ali Hajizadeh, commander of the IRGC aerospace division, also slammed those at home who criticize the missile power, saying they are either "stupid" or "in the enemy's camp".
Talking to reporters on the sidelines of rallies marking Quds Day, Hajizadeh called on Muslims across the world to be united, saying if this happens the Zionist regime will be annihilated.
He also said the U.S. embassy relocation from Tel Aviv to al-Quds (Jerusalem) demonstrated America's "fear" as they had lost all of their fronts.
'Trusting the West is like chasing a mirage'
Iran's former chief nuclear negotiator Saeed Jalili said if someone relies upon the West's empty promises, they are only chasing a mirage, referring to Palestine's history as an example.
Pointing to the U.S. withdrawal from the Joint Comprehensive Plan of Action (JCPOA), the official name for the Iran nuclear deal, Jalili said the three European signatories to the deal (France, Britain and Germany) insist that Iran should remain committed to its obligations despite the U.S. pullout.
"Sanctions led to progress and the [Iranian] nation knows that what humiliates America is the determination and power of the nations across the world," Jalili told Quds Day marchers in Shiraz.
MH/PA