Iran-Europe technological co-op greatly benefits both sides: VP
June 23, 2018 - 9:41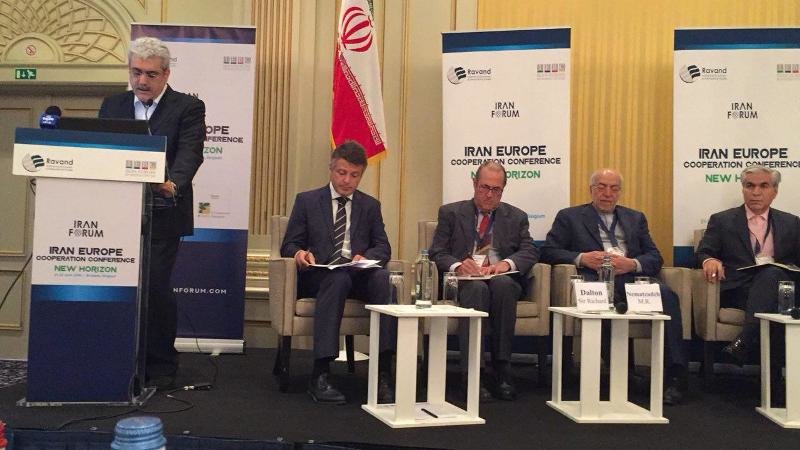 TEHRAN -- Cooperation between Iran and Europe for development of startups and technology has great advantages for both sides, Sourena Sattari, Iran's vice president for science and technology, said on Thursday.
He made the remarks at the Iran-Europe Cooperation Conference, which was held from June 21 to 22 in Brussels, Belgium.
"As representative of Iran's government, we pave the way for boosting ties between Iranian and European startups and innovation companies," he said, ISNA reported.
He pointed to financial transactions between Iran and European countries as an important part of cooperation.
Iran is ready to open up effective channels and establish infrastructures to facilitate financial transactions with European countries, he added.
Sattari said Iran is very rich in natural resources, however, human resources have become important in recent years in the country, he said.
From 2005 to 2016, Iran made a great development in the field of science technology innovation (STI), improving its ranking in international science from 34 to 16, he stated.
In the year 2016, Iran, with publication of 51,187 articles in the Scopus database, acquired 16th world-wide place in International Science Ranking.
Iran has made a great progress in biotechnology, nanotechnology, renewable energy, cognitive science and stem cells, the vice president added.
"Regarding its improvement in science and technology, Iran eyes innovation-based economy in the near future."
"As a country with educated people, Iran has a great potentialities for entrepreneurship."
"There are over 47 million mobile internet users in Iran and a total of 33 million Iranians, aged between 20 to 40 years old, use smartphones, which provide a great market for emerging startups" he said.
Statistics by Iran's Ministry of Information and Communications Technology, published in September 2017, shows that there are over 47.332 million mobile internet users in the country.
Sattari said Iran has launched 66 innovation centers in universities and academic centers to improve entrepreneurship.
Sattari also pointed to establishment of 39 technology and science parks in Iran.
Pardis Technology Park hosts over 200 companies, some of them export technological products to European countries, he said.
A new business ecosystem is forming in Iran for startups which facilitate investment and financial issues, he said.
Over 3,500 technology-based companies are identified over the past six years in the country which are supported by the government, he said.
The companies have an annual 12 billion dollar turnover and create about 300,000 job opportunities in Iran, he explained.
He named the Iranian video sharing service Aparat, the Iranian Android marketplace Cafe Bazaar, the biggest ecommerce startup in Iran Digikala, the Iranian ride-hailing company Snapp and Asan Pardakht AKA AP (pronounced as UP), and Iran's mobile payment company as leading successful Iranian startups.
With the theme of New Horizon, the conference focused on different issues like economic development, startup improvement and internationalization of knowledge-based companies.
Startup scene in Iran, finance & financial technology investment and marketing as well as venture capital funds in Iran featured in the talks on the sidelines of the event.