Long-term precipitations drop by 26% in Iran
June 24, 2018 - 11:29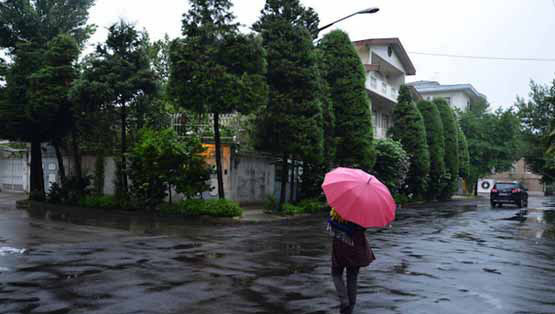 TEHRAN — Despite a 27-percent increase in spring rainfalls, the country's nine-month rainfall (September 23, 2017 to June 21, 2018) is still 26 percent blow the long-term average level, director for drought and crisis management department at Iran's Meteorological Organization has said.
Over the past 3 months, Iran got some 70 millimeters of spring rain, which compared to the 55- millimeter long-term average precipitation level in springs has seen a 27 percent increase, ISNA quoted Sadeq Ziaeian as saying.
Last year's spring rainfall are reported to be 52 millimeters, so spring rainfall exceeded by 35 percent this year, he added.
Hormozgan, Sistan-Baluchestan, Gilan suffer rainfall shortages
However, since the beginning of spring (March 21), three provinces of Hormozgan, Sistan-Baluchestan and Gilan have been suffering serious rainfall shortages with 67 percent, 44 percent and 36 percent drop respectively, Ziaeian explained.
Also, Kerman, Bushehr and Fars provinces are reported to receive below-average rainfall, he added.
The provinces of Ardebil, Khorasan Razavi, North Khorasan, Golestan and Mazandaran met normal averages, and other provinces have received above-normal rainfall, he said.
Average precipitation in Iran falls by 26% compared to long-term period
In a 9-month period (September 23, 2017- June 21, 2018), Iran has received 163.7 millimeters rainfall while the long-term averages are 221 millimeters which indicates a 26-perecnt drop in mean precipitation nationwide, Ziaeian explained.
In the aforementioned period, provinces of Sistan-Baluchestan, Hormozgan and Kerman were facing rainfall shortages by 71 percent, 64 percent, and 64 percent respectively, he said, adding that these provinces are the three provinces with the lowest precipitation rates over the past nine months.
He also mentioned that the provinces of Fars, Kohgiluyeh-Boyerahmad, Bushehr, Chaharmahal-Bakhtiari, Khorasan Razavi, Khuzestan, Yazd, North Khorasan, Isfahan, South Khorasan, Gilan, Markazi, Qom, Lorestan, Mazandaran, Alborz, Tehran and Golestan are also listed among the provinces with low precipitation levels, since the beginning of the current water year (September 23, 2017) up until June 21.
Average precipitation in Iran falls by 21% compared to last year
Over the aforesaid nine-month period the country received 208 millimeters of rain, which also shows a 21 percent decrease compared to the corresponding period last year, Ziaeian said.
3 provinces received above-normal rainfall
Average precipitation in some provinces including Qazvin, Ilam, Semnan, Zanjan, Hamedan, Kermanshah and Ardebil hit the normal levels over the past nine months, he stated.
"Also, the provinces of Kurdistan, East Azarbaijan and West Azarbaijan have received above-normal rainfall."
Compared to the long-term average amounts, with 220 millimeters of rainfall over the same period Tehran is short of rain by 11 percent, he noted.
Compared to rainfall reported last year the city is facing lack of rain by 22 percent, he regretted.
FB/MQ