By Seyed Zafar Mahdi
'Iran's signigicants for India today is primarily strategic and revolves around connectivity'
June 24, 2018 - 15:56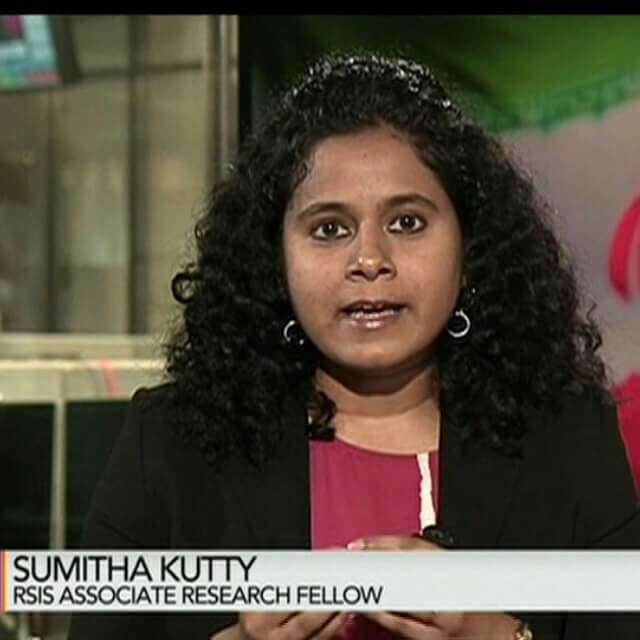 Sumitha Narayanan Kutty is an Associate Research Fellow with the South Asia Programme at the S. Rajaratnam School of International Studies (RSIS), Singapore. Her work centers on India's foreign and security policies in the Indo-Pacific region, particularly toward the Middle East.
Following is an interview with Narayanan Kutty:
Q: Iranian Transport Minister Abbas Akhoundi on his recent visit to India hailed Chabahar port as "win-win" situation for both India and Iran. What is the future of this port and Indo-Iran relations?
A: The transit route to Afghanistan via the Chabahar port – part of the trilateral transit initiative – has been operational from October 2017. India's role and investment in equipping and operating the port, however, is still ongoing and the Indian government has repeatedly stressed it will be completed by the end of 2018. Broadly on India-Iran relations, there is a shift in priorities in recent years. The primary interest, i.e. what is working now, is transit and connectivity with the Chabahar project at its centre.
Q: With India, Iran and Afghanistan joining hands to operationalize this Iranian port located in Sistan-Balochistan province, do you feel it will have any bearing on Iran's relations with Pakistan?
A: Pakistani officials have proposed connecting Gwadar (the port China has built and operates in Pakistani Balochistan) and Chabahar. Therefore, chances are high that trade between Iran and Pakistan may be furthered via the Chabahar port or related infrastructure such as the adjoining free-trade zone. India currently has a ten-year operating lease with potential for renewal and it does not (as yet) have special say in whose goods transit through, once the upgraded port is up and running. It should therefore be expected that both China and Pakistan – given the strong presence of the former and that Iran shares its borders with the latter – will inevitably use this port as well.
Q: India shares historical and cultural ties with Iran and the relations between the two countries have improved in recent years. Why is Iran important for India and vice versa?
A: Today, Iran's significance for India is primarily strategic and revolves around connectivity in that it helps India connect to Afghanistan, Central Asia and beyond, given that transiting goods through Pakistan is not an option. India is welcoming of and encourages developments that help draw Iran back into the international community and integrate into the global economy, like the Iran-P5+1 nuclear deal. New Delhi remained a key energy partner during the sanctions era and continues to push the Chabahar project in spite of US President Donald Trump's rhetoric and policies. Iran sees India as key to its transit infrastructure development and connectivity drive – a top priority for President Rouhani. The larger picture involves connecting Iran, India, Russia, Oman and other signatories via the International North-South Transport Corridor (INSTC).
There is unfortunately little being done to strengthen cultural and people-to-people ties between the two countries despite the oft-repeated 'historical and cultural ties' phrase on both sides. Encouraging academic or youth exchanges and promoting Persian are some ways to strengthen links. The current visa regime is quite cumbersome for ordinary tourists from India traveling to Iran. A lot more can be done.
Q: U.S. President Donald Trump in his New Year tweet threatened to withhold aid to Pakistan if Islamabad continues to provide "safe havens" to terrorist groups. Do you think Beijing will seize this opportunity to replace the U.S. as Pakistan's top ally?
A: Pakistan already considers China to be its most reliable strategic partner ('all-weather friendship') whether in the security realm or in economic terms. Beijing today has a very strong foothold in the country with the mammoth China-Pakistan Economic Corridor project and a military/logistics base in Gwadar. The on-again-off-again relationship with the United States is not new and such back-and-forth has transpired across previous administrations. This situation will not significantly change unless Washington finds a viable alternative to its current supply routes to Afghanistan.
Q: India recently voted in favor of Palestine at the UNGA but its official position on the Israel-Palestine conflict has always been ambiguous. Could you explain why?
A: In recent years, particularly under the Modi government, India has sought to de-hyphenate its policies toward Israel and Palestine. There has always been a long and strong defence partnership between India and Israel. It is just a lot more visible today. Geopolitical shifts in the Middle East/West Asia also help India in not having to choose one over the other today. Saudi Arabia and UAE's feelers to Israel, given their intensifying rivalry with Iran, are a major shift and very much impacts local dynamics of the Israel-Palestine conflict. New Delhi is very aware of these realities.