UN chief applauds Bangladesh for 'opening borders' to Rohingya refugees
July 3, 2018 - 9:49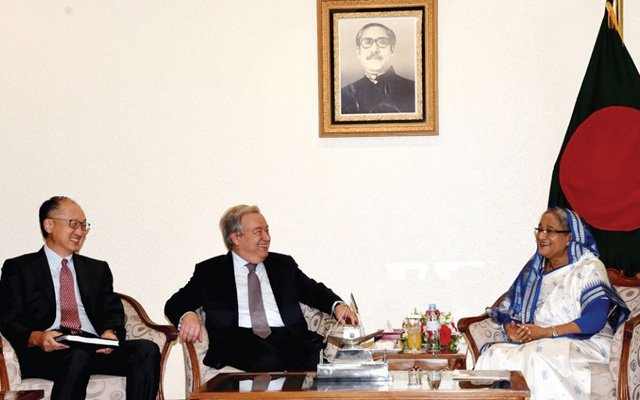 United Nations Secretary-General António Guterres, who visited Bangladesh on Sunday, applauded the country for giving refuge to hundreds of thousands of Rohingya refugees driven from their homes in Myanmar through 'systematic and widespread violence', said a statement issued by the UN.
Guterres praised the country for keeping its borders open and receiving those in need of international protection. "In a world where so many borders are closed, [the people and Government of Bangladesh] have opened their borders and received their brothers and sisters coming from Myanmar and from the terrible events there," he said in Dhaka.
The UN chief also praised the World Bank for its recently announced multi-million-dollar grant for Bangladesh to support both refugees and the communities hosting them.
Noting the progress made by Bangladesh since its independence, Guterres highlighted the country's integration of the 2030 Agenda for Sustainable Development and the Sustainable Development Goals (SDGs) into its national planning frameworks, as an "example that many others can follow."
The UN chief also underscored the importance of empowering women and youth, calling for young people to be given more opportunities and great access to education.
Guterres arrived in Bangladesh early on Sunday as part of a joint trip with the President of the World Bank Group, Jim Yong Kim.
"By hosting the Rohingya, Bangladesh has done a great service for the world. We will support this effort any way we can," said Mr. Kim in a tweet following the meeting.