Syed Zafar Mehdi
'India's foreign policy should not be dictated by Western or Eastern superpowers'
July 26, 2018 - 10:47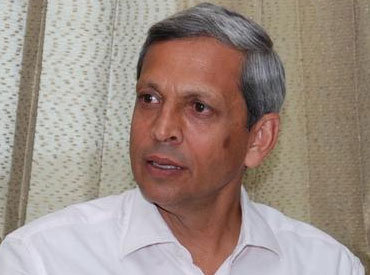 Ajai Shukla is a senior Indian journalist and analyst on strategic affairs, defence and diplomacy. In this interview with Tehran Times, he spoke about India's domestic and foreign policy issues. Following are the excerpts:
Q. Indian Prime Minister Narendra Modi recently spoke of targeting double-digit GDP growth rate for breaking into the $5 trillion economy. But there are numerous hurdles to reach there, especially the growing disparity between rich and poor. Can India claim to be an economic superpower when almost 73 million people live below the poverty line?
A. No. Nor has any Indian leader, to the best of my knowledge, claimed that India is an "economic superpower". Targeting double-digit GDP growth is regarded as essential for creating the broad-based economic growth that will lift more people out of poverty.
Q. There were reports recently that India is mulling to cut oil imports from Iran under the U.S. pressure, even though two other largest buyers of crude oil from Iran - China and Turkey - refused to pay heed to the U.S. diktat. Do you think India, being a major power in the world, should not let Western superpowers dictate its foreign policy?
A. No. India's foreign policy should not be dictated by Western superpowers... nor by Eastern superpowers. Its foreign policy should be dictated by its own national interests.
Q. If India goes ahead and cuts oil imports from Iran, will it have any bearing on the agreements the two countries have signed especially on Chabahar Project?
A. India is negotiating the necessary waivers needed for continuing oil imports from Iran, without the need to get involved in sanctions violations. It is up to Iran to decide how to take forward the Chabahar Port project. In my understanding, Tehran has not been very forthcoming and enthusiastic on Chabahar so far anyway.
Q. The relations between India and China, two of the fastest growing economies and regional giants, have never been on the solid ground. What ails their relationship?
A. This requires a book, not a short answer! But if you have to have one, it is: Strategic competition in Asia and China's apparent belief that it must be the sole regional power.
Q. India has used its soft power quite effectively to win hearts and minds in Afghanistan. But there is a general perception that both India and Pakistan use Afghanistan as the battleground for proxy war. Why is Afghanistan important for India?
A. As a traditional friend (just like Iran is!). As a counter to Pakistan-supported jihadism in South-Central Asia. As a gateway to Central Asia (with the cooperation of Iran, if that is forthcoming).
Q. Under the Modi-led BJP government in India, the incidents of hate crimes against religious minorities have increased. Don't you think it has damaged the image of India as a secular republic?
A. Without question. The rise of hardline Hindutva is damaging India's international image. More worryingly, it is damaging India's security and coherence from within.
Q. Recently the UN published its first report on human rights situation in Kashmir and recommended an independent inquiry into human rights abuses in both parts of Kashmir. Why did India reject it?
A. For the same reason that Iran rejects international reports that paint it as a supporter of jihadism and terrorist groups across West Asia. No country likes foreign human rights organisations pointing fingers at its internal security operations.
Q. ISIS seems to have gained firm foothold in Afghanistan and Pakistan region in recent years. Do you think the group poses threat to India as well?
A. ISIS poses a threat to every country, including Iran and India. But it is not a primary order threat.