By staff & agencies
Innocent Yemeni children perish in Saudi strike, UN chief calls for investigation
August 11, 2018 - 12:31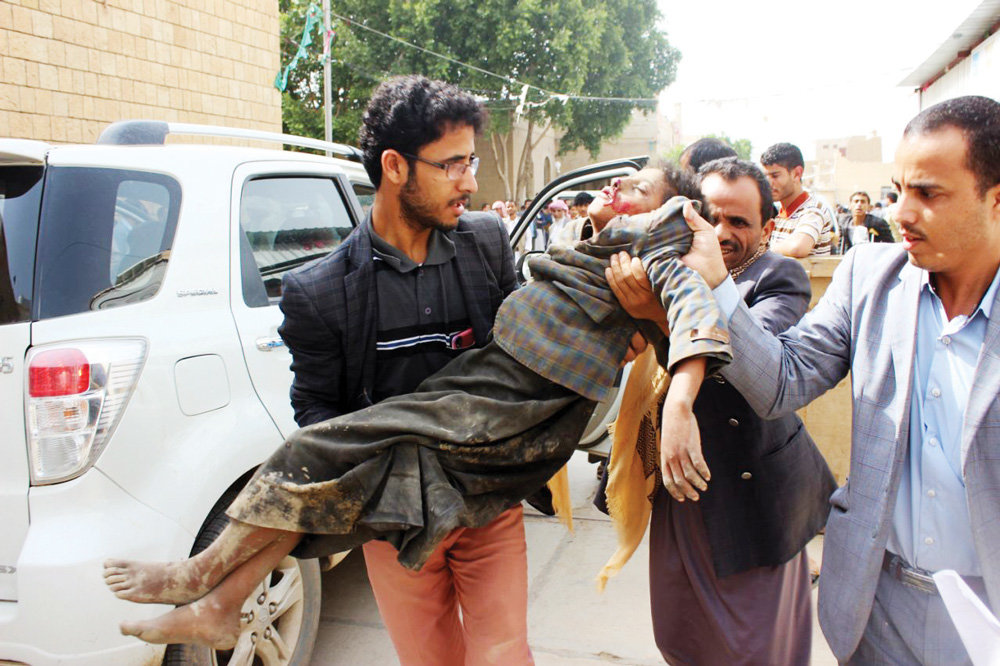 The United Nations Secretary General Antonio Guterres has condemned a recent deadly airstrike by the House of Saud regime warplanes on a bus carrying Yemeni school children, calling for an independent investigation into the case.
The airstrike on Thursday hit a bus carrying a group of young school children attending summer classes of the Holy Qur'an from a summer camp in a busy market area in the northern Majz District, UN spokesman Farhan Haq said in a statement.
Condemning the attack, Guterres called for "an independent and prompt investigation" into the incident, Haq said.
In the statement, Guterres added that all parties must "respect their obligations under international humanitarian law, in particular the fundamental rules of distinction, proportionality and precautions in attack."
Yemen's Ansarullah (Houthi) movement welcomed the UN call for probe into Thursday's airstrike.
According to the area's Health Ministry, 50 people were killed and 77 injured in the strike. The International Committee for the Red Cross said a hospital it supports in northern Sa'ada province had received 29 bodies of "mainly children" younger than 15, and 40 injured, including 30 children.
Johannes Bruwer, the head of the International Committee of the Red Cross (ICRC) delegation to Yemen, said in a tweet that most of those killed by the airstrike were children less than 10 years of age.
A video from al-Masirah TV shows several boys who appear to have lost their limbs. Two or more wounded children are seen sharing a single hospital bed, and one child -- soaked in blood -- screams as he is being treated at a health center.
In another video, which appears to show the immediate aftermath of the strike, several children's bodies lie under a blown-up bus. Some boys are seen regaining consciousness, their faces bloodied and limbs charred.
The attack came a week after the Saudi regime-led airstrike hit a busy fish market and the entrance to the country's largest hospital, al-Thawra, in the port city of Hudaydah, killing 55 civilians and wounding 170 others.
After Thursday's strike, Guterres renewed his call for a negotiated political settlement ahead of consultations scheduled in Geneva in September.
Lise Grande, United Nations humanitarian coordinator in Yemen, urged all parties to come to the table.
"The UN is offering a way forward through a dialogue on peace. We hope that all belligerents get to the peace table and start negotiating an end to this terrible war," she said.
Saudi regime denies targeting children
The developments followed as the House of Saud regime denies targeting civilians and rejected a UN report last year that blacklisted the country for deaths and injuries to children in the Yemen war.
Earlier on Thursday, the Saudi regime in a defiant statement, has described the massacre as a "legitimate action" to target missile launchers used by Ansarullah fighters to target the southern Saudi city of Jizan.
Coalition spokesman Turki al-Malki even claimed that the strikes "conformed to international and humanitarian laws."
"No, this is not children in the bus," he said. "We do have high standard measures for targeting (sic)."
Malki said those responsible for firing ballistic missiles and targeting civilians would "get what they deserve."
The United States called on the Saudi regime-led coalition to launch an investigation into Thursday's strike.
The U.S. State Department spokeswoman Heather Nauert said Washington did not have the "full details of what happened on the ground," but said "we're concerned about these reports."
"We call on the Saudi-led coalition to conduct ... an investigation," Nauert said.
The Pentagon, which provides support for the Saudi regime-led war, called on the U.S. allies to mitigate "noncombatant casualties."
UNICEF: Airstrike on children's bus is 'a low point' in Yemen war
Meantime, an airstrike which hit a bus carrying children in Yemen has been called "a low point in the country's brutal war" by the head of UNICEF (United Nations Children's Fund is a United Nations).
UNICEF executive director Henrietta Fore issued a powerful statement condemning the attack.
She said: "The horrific attack on a bus in Sa'ada, Yemen, reportedly killing and maiming scores of children, marks a low point in the country's brutal war."
"The question now is whether it will also be a turning point - the moment that must finally push the warring parties, UN Security Council (UNSC) and international community to do what's right for children and bring an end to this conflict."
Fore warned that the conflict's repeated attacks and access restrictions are hampering UNICEF's ability to reach those most in need, including 11 million children who require humanitarian assistance.
A UNICEF-supported water station and sanitation center in Hudaydah which provide families with access to clean water and help prevent another outbreak of cholera were attacked and seriously damaged in recent weeks by the Saudi regime strikes.
"Parties to the conflict and those who have influence over them, including Security Council members, can and should choose to end this catastrophe for the sake of Yemen's children," Fore said.
Where are my brothers?
Grief and anger has gripped Yemen's war-ravaged province of Sa'ada a day after the Saudi regime- United Arab Emirates (UAE) military alliance, backed by the U.S., bombed a school bus carrying children heading to a Quran class.
In unverified videos uploaded to social media, bereaved parents could be seen pleading with hospital staff for updates, as dead bodies literally began piling up, on top of each other.
In one video, a father could be seen struggling to contain his grief after he found his dead son under a heap of corpses in the boot of a Nissan pick-up truck.
In a second video, one of the children who survived the attack refused to receive medical attention until doctors updated him on the fate of his two younger brothers.
"I have two brothers, Hassan and Yehia, who are smaller than me," the boy said. "Where are my brothers? ... I don't want help until I see my brothers."
It was not clear if the boy's brothers had survived.
Pictures from the scene of the attack showed homes and businesses destroyed, with trails of blood on the roads and UNICEF rucksacks splattered with blood.
"I am watching with horror the images and videos coming from Sa'ada in #Yemen and I have no words. How was this a military target? Why are children being killed?" tweeted Meritxell Relano, UNICEF's resident representative in Yemen.
Silence legitimizes Saudi aggression
Yemen's Ministry of Defense issued a statement early on Friday, saying: "The silence of the international community legitimized [the Saudi regime-UAE alliance's] continuing aggression and brutality."
"By staying silent about these crimes, they are accomplices in the deaths of women and children."
Video: Saudi-led forces kill Yemeni captives ISIL style
Separately, a recent video released by a senior Yemeni official shows Saudi regime-led forces executing Yemeni captives in the Islamic State in Iraq and the Levant (ISIL/Daesh) terrorist outfit style in yet another criminal action amid the bloody Riyadh-led war on the country.
Mohammed Abdul-Salam, the spokesman for Yemen's Ansarullah movement, published a video on his Twitter account on Thursday, showing members of the Saudi regime-led coalition brutally executing Yemeni captives by shooting them with heavy machine guns in an open area.
The captives were blindfolded and had their hands tied behind their backs.
Abdul-Salam said the executions bear the hallmarks of those by the Takfiri ISIL terrorist group, adding such ISIL-style killings show that not just the U.S. but also Saudi and the UAE had a hand in the creation of the world's most notorious terrorist outfit.
He added that Saudis and Emiratis have been using such terrorist groups as an instrument to advance their objectives.
The Yemeni official further lashed out at human rights bodies for turning a blind eye to human rights violations by Saudi regime-led forces in Yemen.
On Tuesday, an Associated Press investigation found that the Saudi regime-led coalition has secured secret deals with al-Qaeda terrorists in Yemen, recruiting hundreds of its Takfiri militants in the ground operations against the Ansarullah movement and allied forces.
The UAE also is playing a key role in the Saudi-led war on Yemen.
Citing victims and witnesses, the Associated Press reported in June that hundreds of detainees suffered torture and sexual abuse by the Emirati officers at the jails Abu Dhabi runs in Yemen.
Amnesty International said it had also documented "systematic grave violations" in UAE-run jails in Yemen.
In recent months, militants backed by the UAE have reportedly kidnapped and tortured hundreds of people in southern Yemen. The kidnapping spree took place under the pretext of clearing out suspected al-Qaeda-linked elements.
The House of Saud regime along with some of its allies, particularly the UAE, has been waging a deadly war against impoverished Yemen since March 2015 in an attempt to reinstall former fugitive president Abd Rabbuh Mansur Hadi and crush the popular Ansarullah movement.
The U.S. and Britain have been criticized for providing logistical and military support to the Saudi regime-led coalition.
According to the UN the war Saudi regime-led war in Yemen is now the world's worst humanitarian crisis, with more than 22.2 million people -- three-quarters of the population -- in desperate need of aid and protection.
The country could also be facing its third major cholera epidemic, especially around Hudaydah, the World Health Organization has warned.