Tehran might cut down on JCPOA commitments: Kamalvandi
August 15, 2018 - 18:55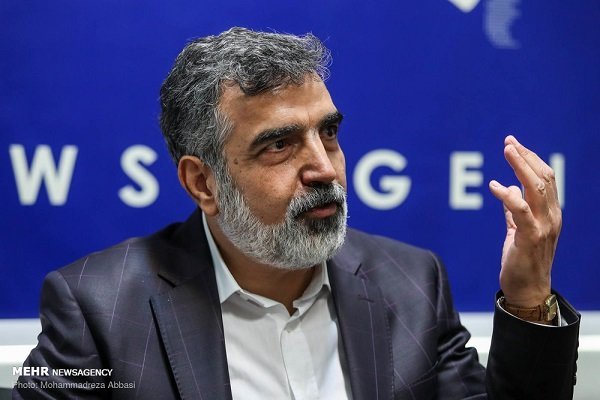 TEHRAN – The spokesman for the Atomic Energy Organization of Iran (AEOI) has said that remaining in the 2015 nuclear agreement only makes sense if Tehran can benefit from it, "otherwise it may cut down on its commitments to the pact."
According to the nuclear deal, officially known as the Joint Comprehensive Plan of Action (JCPOA), Iran is tasked to put limits on its nuclear activities in exchange for termination of sanctions.
"There has to be some balance between [Iran's] commitments and its benefits [from the JCPOA]. If we fulfill our obligations but receive no benefits, there's no sense in continuing the deal and we might cut down on our commitments," Behrooz Kamalvandi in an interview with Mehr published on Wednesday.
On his organization's decision about the future of the JCPOA, Kamalvandi said the AEOI only offers its viewpoints to top authorities and acts upon their order.
Different scenarios are being taken into account by the country's decision makers and Iran will be prepared for any situation, he explained.
He also underlined the importance of the European countries' determination and efforts to secure Iran's benefits from the JCPOA in the aftermath of the U.S. exit, saying Tehran will look at the results of continued cooperation with the Europeans and will decide what to do.
On May 8, U.S. President Donald Trump announced Washington's unilateral exit from the JCPOA and ordered restoration of sanctions against Iran. The first batch of sanctions was snapped back on August 6. The second batch will be restored on November 4.
Kamalvandi also said the AEOI has not received any orders to leave or stay committed to the "additional protocol", stressing "if the other sides, especially the Europeans, intensify their efforts, Iran will continue to comply with its commitments."
"The Europeans have activated the blocking statute and implemented some other measures, but we must wait and see whether these measures would succeed to create the potential for us to neutralize the sanctions," he added.
Last month, EU foreign policy chief Federica Mogherini announced that the European Council has activated a blocking statute that prohibits companies from complying with U.S. sanctions on Iran.
On August 6, as first batch of U.S. sanctions went into force, Mogherini and the foreign ministers of the United Kingdom, France and Germany issued a statement and vowed immediate steps to protect European companies and work to keep "effective financial channels" open with Iran.
MH/PA