Bangladesh PM blasts Myanmar military for anti-Rohingya propaganda
September 4, 2018 - 10:46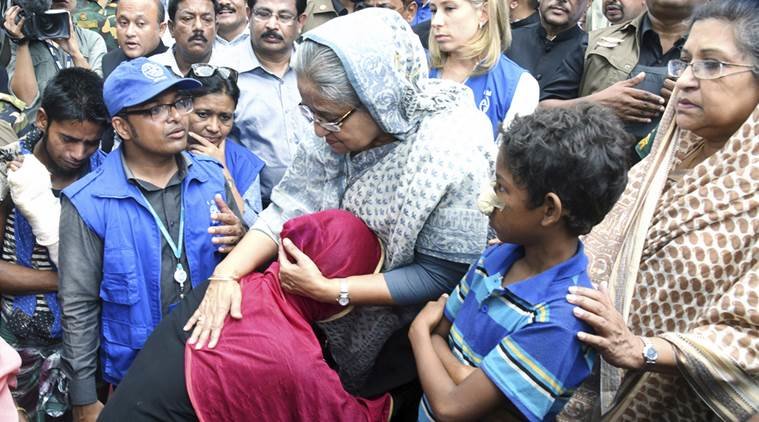 TEHRAN - Bangladesh Prime Minister Sheikh Hasina has blasted the Myanmar regime for spreading disinformation about Rohingya Muslims presently stationed in Bangladesh's refugee camps.
Addressing media-persons in Dhaka, Hasina said the Myanmar military was using "fake pictures" as part of their hideous anti-Rohingya propaganda.
"This is a magical trick...What they are doing is disgusting," she said as foreign media investigations revealed that the Myanmar military used fake photos to show flimsy 'Rohingya atrocities' on Burmese Buddhists decades ago.
The Bangladesh prime minister said Myanmar committed heinous crimes by attacking and driving tens of thousands of Rohingya Muslims out of their homeland but "the biggest matter is that they tarnished their own image".
She said the Myanmar regime had pledged to take back the Rohingya refugees as part of the repatriation deal, but they failed to honor the pledge. "Myanmar is Bangladesh's next-door neigbour, so we never wanted any conflicting position (with them)...the international community gave support to Bangladesh on the issue and I extend my thanks to them for it," she said.
Hasina said Bangladesh has provided shelter to approximately 1.1 million Rohingya refugees and made all possible arrangements for them and at the same time Dhaka was in talks with Myanmar for the safe and voluntary repatriation of these refugees.
"When talks are held with Myanmar, they don't make any objection on the repatriation of the Rohingyas. But the reality is different," she said, indicating that Myanmar regime was reluctant to take back the Rohingya refugees.
It has been one year since Rohingya Muslims were forced to leave Myanmar following brutal crackdown by Myanmar military with tacit support of the government. As per conservative estimates, there are around 905,000 Rohingya refugees presently in Bangladesh's Cox's Bazar, although some human rights bodies have put the figure higher, living in deplorable conditions.
The exodus of Rohingya Muslims from Myanmar's Rakhine state started in October 2016. Almost 200,000 of them fled to neighboring Bangladesh that time and settled in Cox's Bazar. However, in August last year, more than 720,000 Rohingya Muslims fled to Bangladesh en masse to escape persecution, murder, arson and rape.
The savagery in Rakhine was described by the United Nations as "a textbook example of ethnic cleansing". The atrocities were widely documented by human rights bodies, including gang rapes, cold-blooded killings, torture and destruction of properties belonging to Rohingya Muslims. Hundreds of Rohingya villages were burnt down between August 25 and November 25 in a systematic ethnic cleansing.
In a statement ahead of the anniversary, 132 sitting parliamentarians from five other countries in Southeast Asia issued a statement calling for Myanmar officials to face trial at the International Criminal Court (ICC). In an interview with Tehran Times, Matthew Smith, CEO of Fortify Rights, also said that the UN Security Council should "urgently refer the situation in Myanmar to ICC", which he said will "at least start the wheels of justice". The ICC is currently considering whether it has jurisdiction in the crisis. Bangladesh is a member of the court, but Myanmar is not.
Last week, a delegation of Bangladesh officials led by Foreign Minister had visited Myanmar to resolve the crisis and facilitate repatriation of Rohingya refugees but reports suggest that the two sides failed to break the deadlock. It was the first high-profile visit by top Bangladesh officials to Myanmar since the persecuted Rohingyas fled to Bangladesh a year ago.