By Syed Zafar Mehdi
"Rohingyas lived in open-air prison in Myanmar and now live in impoverished conditions in Bangladesh"
July 20, 2018 - 13:24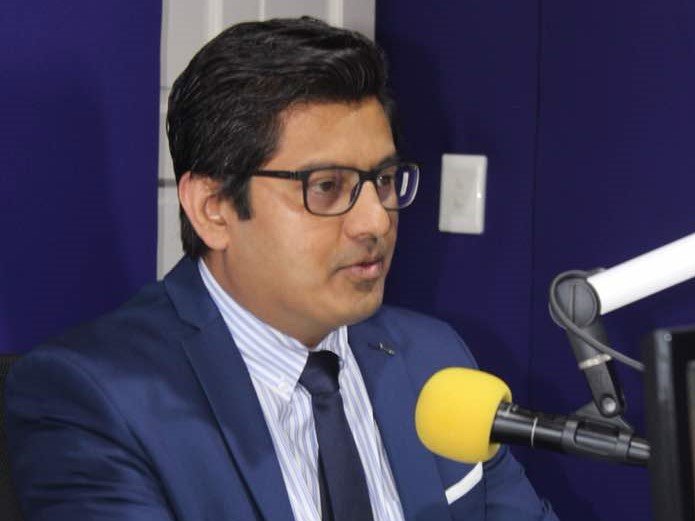 Nay San Lwin is the media coordinator for Free Rohingya Coalition, the global network of Rohingya activists. In an interview with Tehran Times, he talks about the challenges facing Rohingya refugees in Bangladesh and possibilities of their repatriation.
Following are the excerpts:
Q. What is the exact number of Rohingya refugees in Bangladesh presently? How are they dealing with myriad challenges facing them, especially monsoon flashfloods?
A. There are over a million Rohingya refugees in Bangladesh presently and over 200 local and foreign NGOs, INGOs, and UN organizations supporting them. A few thousand refugees moved to the place where they would be safe from flashfloods. Unfortunately about a dozen refugees got killed just a few weeks ago and about three thousand shelters were destroyed but I hope it won't happen again as the agencies there are working very hard to protect them from the threat posed by flashfloods.
Q. When did the genocide and exodus of Rohingya Muslims actually begin? What has the world community done for them, especially the United Nations? The UN chief recently visited Bangladesh and confessed that nothing could have prepared him for the "scale of the crisis and extent of suffering" he witnessed there.
A. The genocide and exodus of Rohingya Muslims began in 1978. It is a four decade long slow genocide. The UN described Rohingyas in 1992 as the "most persecuted minority" in the world. It has been now 26 years. The situation gets worse day by day. The fresh wave of exodus of persecuted Rohingyas from Myanmar's Rakhine state started in October 2016 after crackdown by Myanmar security forces. More than 200,000 of them fled to Bangladesh that time. And then in August last year, more than 720,000 Rohingya refugees fled to Bangladesh to escape persecution, murder, arson and rape.
The UN chief visited Bangladesh a few weeks ago and met refugees in Cox's Bazar camps. But we want to see solution of this crisis rather than visits by high-profile dignitaries. These dignitaries come and sympathize with the refugees but that's not enough. We want permanent solution.
Q. Many countries have sent relief supplies for Rohingya refugees in Bangladesh but that is certainly not enough. What should the world do to find a solution to this humanitarian crisis?
A. The refugees in Cox's Bazar camps are just depending on aid agencies. Bangladesh doesn't recognize them as refugees. They call them forcibly displaced Myanmar nationals. In my opinion, they must be recognized as refugees. Then they will have the rights of the refugees. The international community has urged the Bangladesh government to recognize them as refugees and give them rights of refugees and also find permanent solution to this crisis. The most important thing is to drag all the criminals responsible for this crisis to the International Criminal Court (ICC), restore their citizen and ethnic rights, and ensure their safety and security when they are repatriated.
Q. According to aid agencies, it can also be termed a 'children's emergency' since many children in Cox's Bazarcamps are suffering from severe malnutrition and other health issues. What do you think?
A. These children have fled open-air prison in Myanmar. The entire situation in these camps in Bangladesh should be termed emergency. The situation is gradually improving but lot more needs to be done. As the funding is also an issue to provide best service for the refugees, we don't want to blame anyone. Finding permanent solution is the most important demand of these people. I think the international community should focus on these children by collaborating with UNICEF.
Q. UN refugee agency has said that the repatriation of Rohingya refugees to Rakhine state in Myanmar must take place in safe and dignified conditions. Do you think that is possible?
A. To repatriate these people, first of all, the Rohingya homeland has to be protected. They need international protection. Safe, voluntary and dignified return is just a talk. It isn't going to work at all. The Rakhine state is not safe for Rohingyas at all. It hasn't been safe since 1978. Rohingyas have been experiencing mass exodus since 1978. The exodus and mass killing is being repeated again and again. They were living in an open-air prison in Rakhine and now they live in impoverished conditions in refugee camps. We Rohingya activists demand "Protected Return to Protected Homeland". This has to be implemented as a permanent solution to this crisis.
Q. Myanmar leader Aung San Suu Kyi has refused to take moral responsibility for the persecution and exodus of Rohingya refugees, yet she hasn't been stripped of her Nobel Peace Prize. Isn't it hypocritical?
A. Even if we demand, Nobel Prize committee is not going to take away her Nobel Peace Prize. Everyone knows she is complicit in the genocide of Rohingya Muslims. What we can do is extend our solidarity with Rohingyas. And we seek solidarity from all conscientious citizens of the world. People should raise their voice for these ill-fated, persecuted people.
Q. Do you think this crisis will be resolved in the near future?
A. All members of UNSC should unite to take action against those responsible for the plight of Rohingya Muslims, especially the Myanmar government. The action of UNSC can lead to a permanent solution of this crisis. All countries, including the members of ASEAN, must impose sanctions against Myanmar and extremist Buddhists who are complicit in this genocide must be booked under law.