Under shadow of threats 'we treasure our missiles' more than ever, Rouhani notes
Iranian president likens Trump to Saddam Hussein
September 22, 2018 - 11:42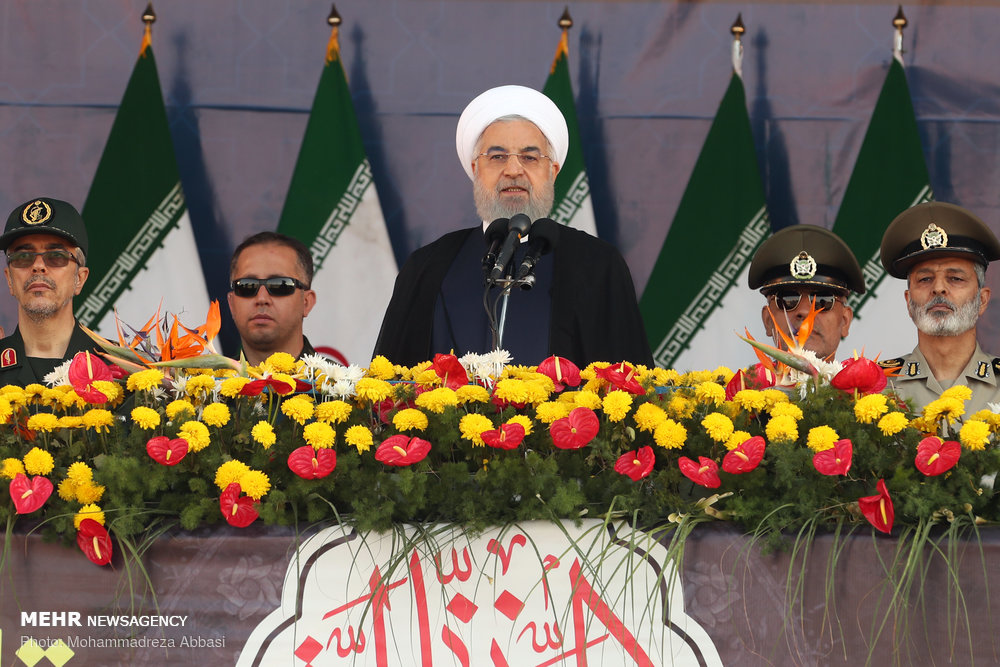 TEHRAN – President Hassan Rouhani of Iran on Saturday compared U.S. President Donald Trump's abrogation of the 2015 nuclear deal with Iran to the behavior of former Iraqi dictator Saddam Hussein who violated the 1975 Algiers Agreement and launched a war against Iran in 1980.
Speaking at a military parade marking the anniversary of Saddam Hussein's invasion of Iran on September 22, 1980, Rouhani predicted as Saddam was isolated internationally "Mr. Trump" will also find himself in such a situation.
Rouhani said Trump has launched economic war against Iran but the end of this war will be "much sweeter and quicker" than Saddam's war against Iran.
"Saddam's invasion of Iran started under the pretext that the 1975 agreement was not a good agreement for himself and for Iraq. Today, 38 years since the invasion of Saddam, violation of an agreement is being repeated once again (this time by Trump)," Rouhani told senior military officials.
"What happened to Saddam will happen to America."On May 8, Trump unilaterally withdrew the U.S. from the international nuclear agreement backed by the UN Security Council resolution 2231. He did this despite the fact that the other parties to the accord, including the European Union, Germany, France, Britain, China and Russia, insisted that they will stick to the deal and warned the United States against such a move.
Only the Israeli prime minister and royal families in Saudi Arabia and the UAE have expressed happiness over Trump's exit from the nuclear agreement and the reimposition of sanctions on Iran.
Rouhani said as those who backed Saddam were forced to repent and the United Nations finally declared Saddam as the initiator of the war against Iran "such a thing will happen to Trump, and what happened to Saddam will happen to America".
Rouhani also reiterated Tehran's long-held position that Iran will not compromise on its deterrent missile program.
"With your threats we will treasure our missiles more than ever," Rouhani asserted in open reference to threats of military attack against Iran by Israel and Trump's White House.
PA/PA