'The world will laugh at Netanyahu's anti-Iran show'
September 28, 2018 - 20:38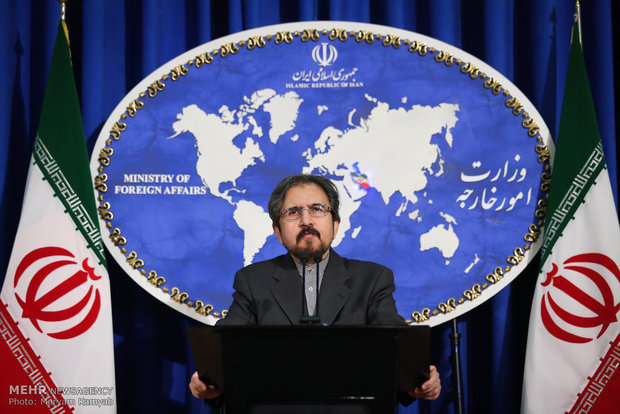 TEHRAN – The world will laugh at Israeli Prime Minister Benjamin Netanyahu's claims about a secret atomic warehouse in Tehran, Foreign Ministry spokesman Bahram Qassemi has said.
"The occupying regime [of Israel] should know that in the modern age, the whole world, as he [Netanyahu] himself saw, will just laugh out loud at such untrue, injudicious and hollow remarks and false shows," Qassemi said, Foreign Ministry website reported on Friday.
Addressing the UN, the hawkish Israeli prime minister showed an aerial photograph of the Iranian capital marked with a red arrow and pointed to what he claimed was a previously secret warehouse holding nuclear-related material, Reuters reported.
Zarif says 'craft show' cannot hide Israel's secret nuclear arms program
Iranian Foreign Minister Mohammad Javad Zarif said "no arts and craft show" can hide this reality that Israel has "secret" and "undeclared" nuclear weapons program.
"No arts & craft show will ever obfuscate that Israel is only regime in our region with a *secret* and *undeclared* nuclear weapons program - including an *actual atomic arsenal*. Time for Israel to fess up and open its illegal nuclear weapons program to international inspectors," Zarif tweeted.
Netanyahu has previously made similar allegations about Iran's nuclear activities. In a similar show at the UN General Assembly in 2012, he presented a cartoon bomb warning of how close Tehran was to producing a nuclear device.
'Israel has isolated U.S. at UN'
Zarif also said Israel has pushed the United States toward isolation, IRNA reported.
"In recent days we've seen how much the policies that Netanyahu has imposed on America has isolated them in the General Assembly and Security Council," Zarif said, according to IRNA. "Now see when they can pull America to this level of isolation how isolated they are themselves."
MH/PA