Iran to preside at WHO's 2020 Conference of the Parties
October 10, 2018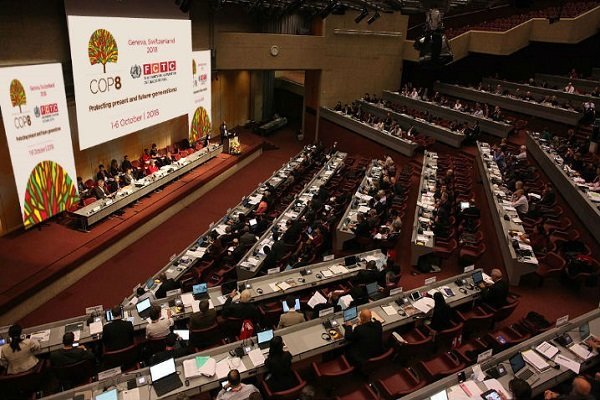 TEHRAN – Iran will preside at the ninth session of the Conference of the Parties (COP9) of World Health Organization Framework Convention on Tobacco Control (WHO FCTC) in 2020, deputy health minister Alireza Raeisi said, Fars reported on Wednesday.
During the eighth session of Conference of the Parties (COP8), which was underway on 1-6 October 2018, in Geneva, Switzerland, Iran was elected as the head of COP9 to be held in October 2020, in The Hague, the Netherlands.
The member parties have lauded Iran for the systematic program of tobacco control legislation and raising taxes on tobacco, Raeisi added.
Majlis (Iranian Parliament) after the adoption of the FCTC acted to create a comprehensive and systematic program for tobacco control legislation as a first step towards comprehensive national tobacco control and combat.
As per the law and its guidelines, specific implementation is done to monitor tobacco use and prevention policies, protect people from tobacco smoke, offer help to quit tobacco use, warn about the dangers of tobacco, enforce bans on tobacco advertising, promotion and sponsorship and raise taxes on tobacco.
FCTC is the first international treaty negotiated under the auspices of WHO. It was adopted by the World Health Assembly on May 21, 2003 and entered into force on February 27, 2005, with 168 Signatories, including the European Union, which made it one of the most widely embraced treaties in United Nations history. Currently, there are 181 Parties covering more than 90% of the world population.
The WHO FCTC was developed in response to the globalization of the tobacco epidemic and is an evidence-based treaty that reaffirms the right of all people to the highest standard of health. The Convention represents a milestone for the promotion of public health and provides new legal dimensions for international health cooperation.
It is also seeking "to protect present and future generations from the devastating health, social, environmental and economic consequences of tobacco consumption and exposure to tobacco smoke" by enacting a set of universal standards stating the dangers of tobacco and limiting its use in all forms worldwide.
Its provisions include rules that govern the production, sale, distribution, advertisement, and taxation of tobacco. FCTC standards are, however, minimum requirements, and signatories are encouraged to be even more stringent in regulating tobacco than the treaty requires them to be.
FB/MQ/MG