Iranian handicrafts awarded with WCC Seal of Excellence
October 31, 2018 - 20:36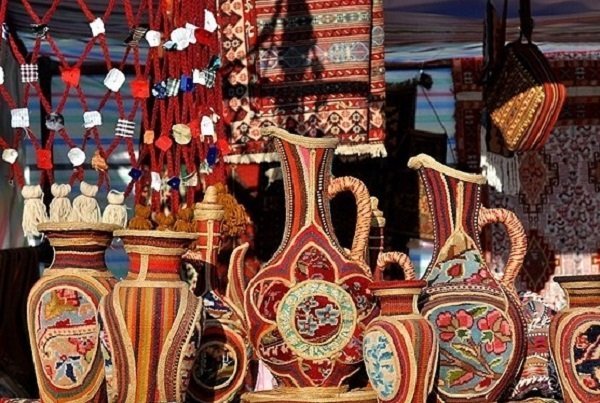 TEHRAN – A total of 50 Iranian handiwork objects have recently received Seal of Excellence for Handicrafts by assessors from the World Crafts Council-Asia Pacific Region (WCC-APR), Mehr reported.
Winners were announced in a Tehran ceremony on Monday, which was attended by WCC-APR President Ghada Hijjawi – Qaddumi.
The WCC experts in design, marketing and handicraft production also assessed handicrafts made by artisans from other countries including Kuwait, Oman, Jordan, Lebanon, Bahrain, Palestine, Qatar and Yemen.
The experts also paid visits to Abadeh, Meybod and Khorashad on missions to evaluate them for the title of "WCC-Craft City" during their two-week journey commenced on Oct. 23.
The cities of Abadeh in Fars province and Meybod in Yazd province were respectively designated for "Woodcarving" and "Zilou" (traditional hand woven floor-covering), while the village of Khorashad in South Khorasan province is nominated for the craft 'Toebafi' (traditional hand woven fabrics).
According to the WCC, the Seal of Excellence recognizes handicrafts products that are culturally authentic and have been manufactured in a socially-responsible manner with respect for the environment.
"Each craft is reviewed according to excellence, authenticity, innovation, eco-friendliness, marketability and social responsibility to ensure the highest level of craft excellence and distinguish a product as a benchmark for craft production."
Iran's handicrafts exports reached $107 million in the first half of the current Iranian calendar year (started March 21), growing 9.5 percent year on year.
Traditional ceramics, pottery vessels, handwoven cloths as well as personal ornamentations with precious and semi-precious gemstones are among Iranian exports to Iraq, Afghanistan and Germany, the U.S., the UK and other countries.
AFM/MQ/MG