Saudi Arabia Quietly Revises Prince's Transformation Plan
November 11, 2018 - 14:42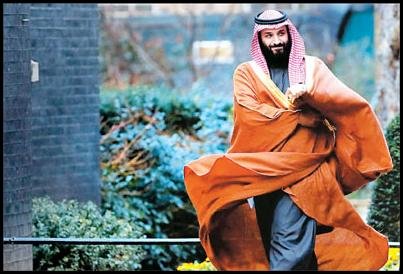 Saudi Arabia has quietly revised its plan to overhaul its government and economy by 2020, lowering some targets as Crown Prince Mohammed bin Salman's ambitions bump up against the reality of implementation.
The scaled-back blueprint -- posted unannounced online -- doesn't affect major fiscal or energy-related reforms. But the lowered bar is a sign that parts of the original plan were overly optimistic, and illustrates the challenges ahead for the prince, whose reputation has been tarnished by the killing of critical journalist Jamal Khashoggi by Saudi agents in the kingdom's Istanbul consulate.
The National Transformation Program, originally released in 2016, was designed to overhaul the Saudi economy and prepare for life after oil, setting hundreds of targets to achieve over four years. Its revision is much narrower in scope, with most economic, energy and housing-related goals now falling under other programs that are part of the prince's broader "Vision 2030."
The government didn't immediately respond to a request for comment on the modified plan posted online.
Women in Workforce
Female participation in the job market is one key target that's been pared. The new goal is to have women make up 24 percent of the workforce by 2020, down from an original goal of 28 percent. That compares to about 21 percent last year. Less ambitious goals were also set for training government employees, and some of the indicators designed to improve health services and raise quality of life.
"There has been some maturation across government in terms of being able to set more realistic mid-term targets," said Steffen Hertog, a Persian Gulf specialist and associate professor at the London School of Economics and Politics.
Some targets were unchanged, while several new ones have been added. They include improving the kingdom's ranking on Transparency
International's Corruption Perceptions Index, raising the retail sector's share of economic output, and better integrating people with disabilities in the workforce.
The National Transformation Program was the first initiative released under Prince Mohammed's "Vision 2030" as the kingdom grappled with lower oil prices. It's still a key part of the 33-year-old prince's agenda, which is facing major challenges as the economy struggles to regain momentum. The Khashoggi killing has added new obstacles by rocking longstanding alliances and spooking foreign investors.
The government has already backtracked on some unpopular reforms over the past two years, including cuts to the public wage bill. It's also set less challenging projections for lowering unemployment as the private sector struggles.
It's natural that officials are revising their plans as they're being implemented and mistakes or risks are discovered, said Hesham Alghannam, a senior fellow at Riyadh's King Faisal Center for Research and Islamic Studies. "It is healthy to continue to evaluate and adjust as we go," he said.
(Source: bloomberg)