Iran to carry out cloud seeding project by drones in weeks
December 6, 2018 - 9:33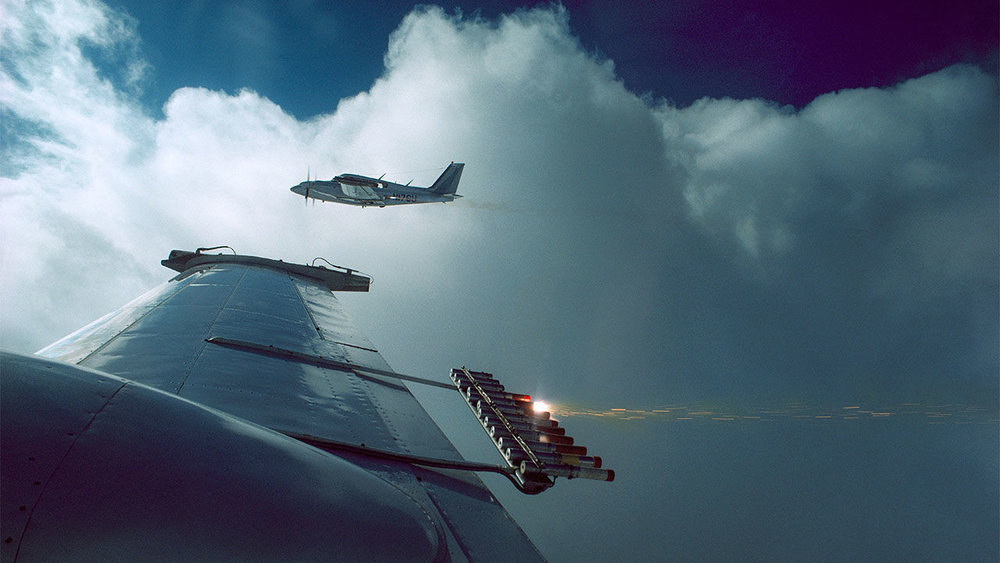 TEHRAN – A cloud seeding project will be carried out within the next few weeks in some provinces of the country using planes and drones in cooperation with the Islamic Revolutionary Guard Corps Aerospace Force (IRGC AF), Farid Golkar, head of Iran's National Cloud Seeding Research Center has announced.
Cloud seeding, a form of weather modification, is a method to change the amount or even type of precipitation. Rainfall occurs when super cooled droplets of water – those that are still liquid but are at a temperature below the usual freezing point of zero centigrade – form ice crystals. Now too heavy to remain suspend in the air, these then fall, often melting on their way down to form rain.
Even in dry areas the air usually contains some water. This can be made to come together and form ice crystals by seeding the atmosphere with chemicals such as silver iodide or dry ice. They work to promote rainfall by inducing nucleation – what little water is in the air condenses around the newly introduced particles and crystallizes to form ice. The 'seeds' can be delivered by plane or simply by spraying from the ground.
Last year, due to lack of funds along with equipment preparation problems, the cloud seeding plan has not been performed, he said, adding this year, despite the shortcomings, it will begin, while must have been performed earlier in November, Golkar said.
After signing a memorandum of cooperation with the IRGC Aerospace Force and Ministry of Energy, the cloud seeding project will be launched across the country, he added, IRNA reported on Wednesday.
Due to limited budget and inaccessibility of appropriate seeding materials as well as some of the equipment and aircraft required, the IRGC AF proposed to carry out the plan using their planes.
He further explained that some seeding equipment have been produced domestically with our expert's great efforts, however, construction of some airborne sensors and other atmospheric equipment and parameters due to its complexity and high cost, as well as being time-consuming, is not economically profitable and we decided to purchase and import them from China, South Africa, Russia, the United Kingdom, India or Australia, which is hoped to gain importing permissions.
Due to the different flight conditions, such as high altitude restrictions and atmospheric conditions, aircraft's structure, and different seed delivery methods, cloud seeding in some provinces will be conducted for the first time by a drone, he stated.
Golkar went on to add that after result evaluation and pilot operations, the method will undergo necessary reforms and drones will pave the way for the cloud seeding developments.
Initially, the operations will be performed by planes in the provinces of Fars, Chaharmahal and Bakhtiari, Isfahan, Kohgiluyeh and Boyer-Ahmad, Kerman and Yazd, he noted, adding drones will be flown for cloud seeding in the provinces of South Khorasan, East and West Azarbaijan.
Despite preparations and pilot operations, we are still waiting for the issuance of flight permits and administrative measures, such as the signing of MOU between the Ministry of Energy and the Aerospace Corps, he further stated.
Referring to social reactions and rumors about the harmfulness of this method, he highlighted that cloud seeding technique has been confirmed by valid scientific institutes such as the World Meteorological Organization and is performed based on climatic conditions in accordance with climate characteristic of an area, so using weather surveillance radars is rather beneficial, which has no adverse effects on air quality.
Pointing to the development of technology for extracting water from atmospheric resources in over 60 countries worldwide, Golkar noted that there is a great potential in this regard to compensate for water shortages and producing a renewable water resource.
Cloud seeding projects have been practiced in Iran over the past 20 years, targeting some provinces in central, western, northwestern and northern part of the country, namely, Gilan, Zanjan, West Azarbaijan and Kermanshah, Yazd, Chahar-Mahal and Bakhtiari, Kohgiluyeh and Boyer-Ahmad, Golkar stated.
Employing this technique appropriately can lead to increased precipitation by 15-20 percent per season, he also added.
Earlier in January, IRGC Aerospace Force Commander Amirali Hajizadeh expressed readiness to dispatch four aircrafts and some forces to help the Energy Ministry to carry out cloud seeding operations.
FB/MQ/MG