By: Syed Zafar Mehdi
India Elections: Modi's party suffers big setback, loses key states
December 13, 2018 - 11:27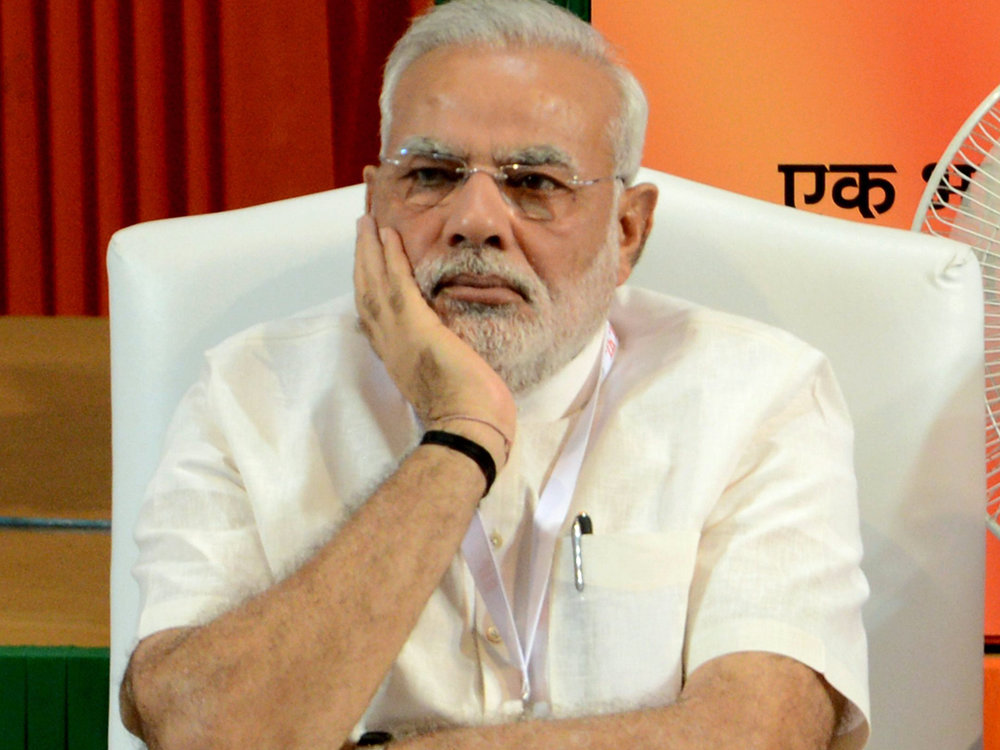 The ruling Bharatiya Janata Party (BJP) in India suffered a major setback on Tuesday after losing three key states to Indian National Congress (INC), the main opposition party, in state elections. Congress is all set to form governments in Rajasthan, Chattisgarh and Madhya Pradesh.
The results, which come barely four months before the general elections in India, have set the ball rolling for Congress, which has been in the opposition since 2014.
Although BJP leaders have downplayed the impact of state elections on general elections slated for April 2019, but political pundits believe this might be an opportunity for Congress to bounce back and recoup the political space from right-wing nationalists.
All three states — Madhya Pradesh, Rajasthan and Chhattisgarh — were won last time by the BJP, which also won 60 out of 65 parliament seats in these states in 2014 general elections. Congress victory has clearly given it an upper hand going into 2019.
Rajasthan and Chhattisgarh, in particular, were considered the bastions of BJP where they were in power for past 15 years. The juggernaut has been broken.
In Chhattisgarh, Congress claimed whopping 68 seats against BJP's 16, a clear verdict. In Rajasthan, Congress bagged 99 seats while BJP got 73, a good margin. In Madhya Pradesh, the contest was even, and eventually Congress prevailed over BJP with 114-109 figure. The other two states – Mizoram and Telangana – went to local parties.
The robust performance in these state elections is a shot in the arm for Congress party. It will unmistakably bolster the morale of party workers before the general elections and strengthen the hold of Rahul Gandhi over the party. Incidentally, the Gandhi scion completed one year on the day of election results as party president and he couldn't possibly have asked for better results.
Ecstatic over the results, Gandhi said his party had defeated BJP in these elections and would defeat it in 2019 general elections as well. He said Prime Minister Narendra Modi, who failed to woo voters this time, "refused to listen to the heartbeat of this country", adding that there was a perception among people that "PM Modi himself was corrupt".
"When PM was elected to power, he was elected on three platforms – employment, corruption, and farmers," said the young Congress president. "It was in people's mind that PM will fight against corruption. Now people think that PM Modi himself is corrupt."
Gandhi further said that BJP had "failed to provide a vision for the country going forward", and under the BJP government, "mismanagement of economy" had taken place.
PM Modi accepted the people's mandate and in a philosophical tone said "victory and defeat were an integral part of life". He said the defeats would further party's resolve to "serve people and work even harder for the development of India".
Since 2014, BJP has been overwhelmingly dependent on PM Modi to win elections. But, this time, Modi factor didn't work for the party. A report in online news portal 'The Print' quite rightly noted that these assembly poll results may not be a verdict on PM Modi's popularity but they certainly carry a lesson for the BJP: "That it cannot rely solely on the Modi factor to win elections."
Senior BJP minister and star campaigner Arun Jaitley said the results were unexpected. "It is an opportunity to pause and analyze," he said, adding that anti-incumbency factor didn't play a role in BJP's defeat in these three key states.
Social media has been abuzz with politicians, journalists, and experts sharing their views on BJP's big debacle. "Democracy has won," the Congress party tweeted. "Thank you India, you have chosen love over hate, peace over violence & truth over lies. This victory is yours."
Prominent lawyer and activist Prashant Bhushan said the "0/5 drubbing of the BJP" was the result of "people becoming wise to the fact that all promises of Modi and BJP governments were just jumlas (statements) and hot air; people are fed up with the politics of hate & goonda raj (warlordism)."
Mamata Banerjee, chief of Trinamool Congress party, which is part of the Congress-led grand alliance, hailed it as the "victory of democracy and victory against injustice, atrocities, destruction of institutions, misuse of agencies, no work for poor people, farmers, youth, Dalits, SC, ST, OBC, minorities and general caste."
Employing sports terminology of semi-final and final, she said "semifinal (state elections) proves that BJP is nowhere in all the states. This is a real democratic indication of 2019 final match (general elections)."
Senior Congress leader and former HRD minister Kapil Sibal said this was a victory of humanity. "This is the victory of Rahul Gandhi, our party, workers, people, and the fight against scams. This is the victory of humanity."
Senior journalist Shekhar Gupta said the myth of Yogi Adityanath as the "Hindi heartland's champion vote-catcher" has been shattered. Adityanath, the BJP chief minister of India's most populous state Uttar Pradesh, has been in news recently for his hateful anti-Muslim rhetoric and for changing names of cities from Muslim to Hindu.
Yascha Mounk, Lecturer at Harvard University, termed the results as "excellent news for Indian democracy".
"While much can change before next year, and the BJP might try to interfere with free and fair elections, the opposition has a real shot at displacing Modi next year," he tweeted. "And that should inspire opponents of populism around the world."
A Twitter user Vaishali said people were not happy that the Congress had won big, but people were happy that Communal BJP had lost the game, adding that the Congress still needs regional parties to win 2019 general elections.