Pakistan, China, Afghanistan hold second trilateral dialogue in Kabul
December 16, 2018 - 9:50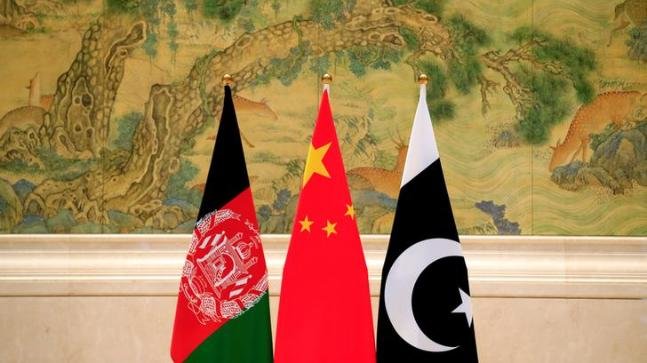 TEHRAN -Pakistan, China and Afghanistan held second round of trilateral dialogue in Kabul on Wednesday, in a attempt to facilitate the peace process and help end the protracted U.S.-imposed war in Afghanistan.
The three countries were represented by their respective foreign ministers in the high-profile meeting. Pakistans foreign minister Shah Mehmood Qureshi was accompanied by foreign secretary Tehmina Janjua and other senior officials, said reports.
One of the three sessions of the daylong conference was dedicated to security. The other two sessions pertained to the political settlement of the Afghan conflict and regional cooperation.
Under the trilateral mechanism, the three countries had previously agreed to strengthen anti-terrorism and security cooperation with special emphasis on war-ravaged Afghanistan. The three sides said they highly valued the trilateral cooperation mechanism and were committed to strengthen communication, enhance mutual trust and deepen cooperation under its framework.
It should be recalled that the first ministerial meeting held in Beijing in December last year had helped Islamabad and Kabul make progress on the establishment of Afghanistan-Pakistan Action Plan for Peace and Solidarity (APAPPS), which then became the new framework for steering the bilateral relations.
The cooperation under APAPPS was affected in the aftermath of the October 18 Kandahar attack that killed top Afghan police official Gen. Abdul Raziq and other key government officials, but the two sides have again come together to streamline efforts towards peace in Afghanistan and the region.
Talking to media before heading to Beijing, Qureshi welcomed the Chinese initiative of holding the trilateral dialogue. He said both Pakistan and China desire peace, stability, prosperity and development in Afghanistan.
He stressed that peace is imperative to take forward the region on the path of sustainable development.
Since the new government took over in Islamabad, Pakistan has been more proactive in addressing the issue of war in Afghanistan. Prime Minister Imran Khan has strongly advocated dialogue and said that peace could not be established in the war-torn country through military power.
Last week, in an important development, Pakistan said that Indias cooperation would be needed for bringing peace to war-torn Afghanistan.
Qureshi said Pakistan was committed to facilitate a negotiated end to the 17-year-old Afghan war, and needed help of other regional countries, including India, Dawn reported.
Meanwhile, PM Khan on Friday revealed that Pakistan has arranged direct talks between the United States and Afghan Taliban on December 17.
The same U.S. that had been asking us to do more is now asking Pakistan to facilitate its talks with the Afghan Taliban, PM Imran said while addressing a ceremony to mark the 100-day ceremony of the Khyber Pakhtunkhwa government.
When I used to say this matter cannot be resolved without dialogue, [they] would term me Taliban Khan, said the PM.
Earlier, in response to the allegations of U.S. that Pakistan had done nothing in war against terrorism, PM Khan responded with a strong tweet: Instead of making Pakistan a scapegoat for their failures, the US should do a serious assessment of why, despite 140000 NATO troops plus 250,000 Afghan troops & reportedly $1 trillion spent on war in Afghanistan, the Taliban today are stronger than before.