By Naghmeh Mizanian
In Iranian folktales, a woman heralds winter
December 17, 2018 - 21:6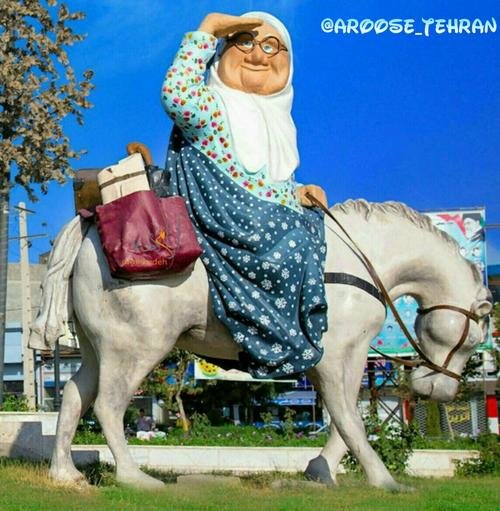 In Iranian mythology and symbolism, man is a sign of effectiveness and woman is an indication of being affected.
Nan-e Sarma (mother of cold) looks forward the light and his male mate Amoo Norouz felicitates the spring and Norouz (Iranian New Year).
The love story of Nan-e Sarma and Amoo Norouz is an example of what happens not only in the nature but the whole world.
This is one of the folk stories of Iran usually being narrated by grandmothers on the longest night of the year, Yalda, when the warmth of grandmother's home nullifies the cold weather of winter.
Once upon a time, Nan-e Sarma, the lady of cold spells, arrived with the cold weather. She was an old woman with her hair as white as snow.
The grandma frost lived in the sky. She had two sons who brought cold weather with themselves. One of her sons, Chelle Bozorge, was a kind man. He reigned the world from the first day of winter for forty days.
After the reign of Chelle Bozorge, the other son of Nan-e Sarma, Chelle Kocheeke, reigned the world. He was unkind and cold. He brought sever cold weather, ice and snow. But his sovereignty was short. Only twenty days.
The older brother told the younger one not to try to make the world so cold. "Don't try hard, the spring will take away cold," Chelle Bozorge told Chelle Kocheeke. However, the younger brother tried to freeze everything.
One day, another ruler came and imprisoned Chelle Kocheeke in an icy mountain.
Nan-e Sarma became really sad. She took a hot bar with herself and went to the mountain to fight with the ices and snows and save her son.
She won the fight and all snows were melted.
Nan-e Sarma, happy and cheerful, made her home all clean and neat. She prepared everything and waited for Amoo Norouz, the "Uncle New Year", the kind messenger of the New Year and spring.
On the first day of spring, Nan-e Sarma, dresses up and sets up her haft-sin, waiting for Amoo Norouz.
But she falls asleep while Amoo Norouz shows up. He drinks some tea and leaves her a marigold flower and disappears without waking her up.
So she should wait one more year until next spring to see him again.
Some people believe that if these two meet each other, an apocalypse will happen.
Tehran Times Women's Desk wishes all readers a happy and cheerful Yalda Night (December 21).
NM/MQ/MG