Second platform of South Pars phase 13 installed on offshore spot
December 17, 2018 - 20:48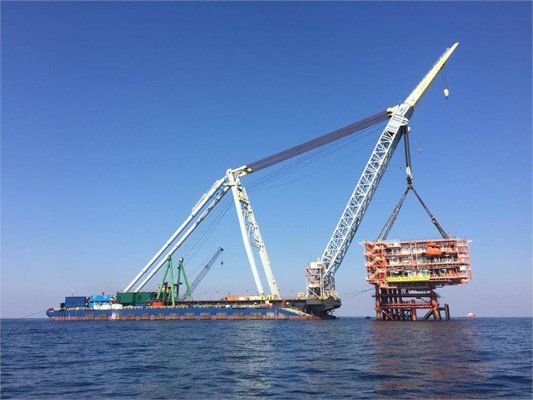 TEHRAN- The second platform of Iran's South Pars gas field's phase 13 of development was installed on its designated offshore spot on Monday, Public Relations Department of Pars Oil and Gas Company, which is in charge of developing the gas field, announced.
The first platform of this phase was installed on its offshore spot on December 5.
Platforms 13B and 13D of phase 13 becoming operational by the end of the next Iranian calendar month, Dey (January 20, 2019), phase 13 output will stand at one billion cubic feet (28 million cubic meters), Payam Motamed, the operator of phase 13, said.
Phase 13 is aimed at production of 56 mcm of gas, 75,000 barrels of gas condensate and 400 tons of sulfur per day in addition to one million tons of ethane and one million tons of propane and butane per annum.
Elaborating on the progress of phase 13, Motamed said the phase is enjoying proper progress in a way that it has 89.5 percent progress in terms of manufacturing marine equipment and 94.8 percent progress in terms of building subsea pipelines.
South Pars is divided into 24 standard phases of development in the first stage. Most of the phases are fully operational at the moment.
The huge offshore field, shared with Qatar, covers an area of 9,700 square kilometers, 3,700 square kilometers of which, called South Pars, are in Iran's territorial waters in the Persian Gulf. The remaining 6,000 square kilometers, called North Dome, are situated in Qatar's territorial waters.
The field is estimated to contain a significant amount of natural gas, accounting for about eight percent of the world's reserves, and approximately 18 billion barrels of condensate.
MA/MA