Iran held talks with Taliban in Tehran on Sunday
December 31, 2018 - 16:16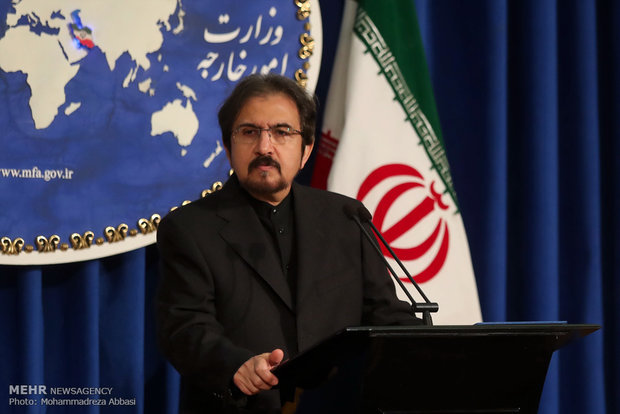 TEHRAN - Iranian Foreign Ministry spokesman Bahram Qassemi announced on Monday that Iranian diplomats held a meeting with a Taliban delegation in Tehran on Sunday, December 30.
During a press conference, he said that the Iranian delegation was headed by Abbas Araqchi, the deputy foreign minister for political affairs.
"The Islamic Republic of Iran shares borders with Afghanistan and has cultural and historical affinities with the country. As an important player in the region which seeks peace, stability and security, Iran wanted to enter these talks after negotiations with the Afghan government," he stated.
The news of talks in Tehran came a few days after a top Iranian security official confirmed that the Islamic Republic has been holding talks with the Taliban in coordination with the Kabul government to help relieve rampant insecurity in Afghanistan.
"The series of contacts and talks with the Taliban group have taken place with the knowledge of the Afghan government," said Ali Shamkhani, secretary of the Supreme National Security Council.
"That trend will continue," Shamkhani said after visiting Kabul on December 26.
Qassemi said the talks are aimed at helping negotiations between Afghan groups and peace process in the country.
He also said that Araqchi will visit Afghanistan in the next two weeks.
'Iran welcomes reopening of embassies in Damascus'
Qassemi also said that Iran welcomes reopening of embassies by foreign countries in Syria.
So far the United Arab Emirates has reopened its embassy in Damascus, the latest sign of efforts to bring the Syrian government back into the Arab fold.
A few hours after the UAE's announcement, Bahrain signaled its intention to reopen its embassy in Damascus, which has been closed since March 2012.
'Europeans have not readied SPV yet'
Qassemi also said that the Europeans have not yet been able to establish the special purpose vehicle (SPV) to save the 2015 nuclear deal, officially called the Joint Comprehensive Plan of Action.
"However, we will pursue the issue and we hope that the Europeans would defend their identity by preparing this mechanism," he said.
SPV is a European Union's initiative intended to protect trade with Iran against newly reimposed U.S. sanctions.
President Donald Trump withdrew the U.S. unilaterally from the 2015 nuclear deal in May and ordered sanctions against Iran. The first round of sanctions went into force on August 6 and the second round, which targets Iran's oil exports and banks, were snapped back on November 4.
'Any move by Brazil to move embassy to Tel Aviv will not be conducive to peace'
In the press conference, Qassemi also advised Brazil against moving its embassy to Jerusalem, saying such a move "will not help peace, stability, security and retrieval of the Palestinian people's rights."
However, he said, Iran will continue its relations with Brazil.
Israeli Prime Minister Benjamin Netanyahu, who is visiting Brazil, said Sunday it is only a matter of time until Brazil moves its embassy to Jerusalem. Incoming President Jair Bolsonaro said last month that he intends to move the embassy, prompting threats by Arab states to boycott Brazilian goods.
Jerusalem's fate is one of the most divisive issues in the Israeli-Palestinian conflict. Nearly all countries maintain embassies in Tel Aviv, and the U.S. decision to move its embassy sparked protests.
NA/PA