Palestinian author Ghassan Kanafani to be remembered in Tehran
January 5, 2019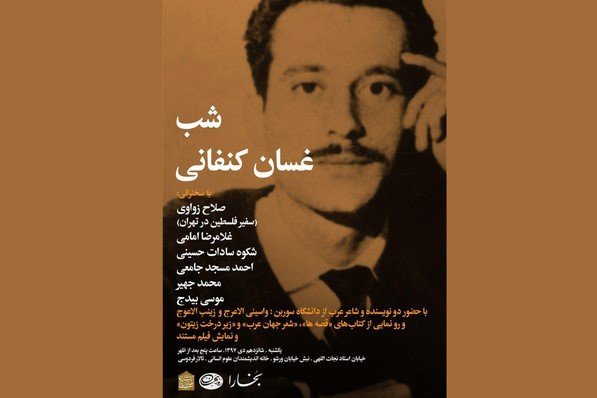 TEHRAN – A number of Iranian and Arab literati will come together today in a meeting at the Ferdowsi Hall of the House of Humanities Intellectuals in Tehran to pay tribute to Palestinian author Ghassan Kanafani. 
Kanafani was a modernist political writer and a leading member of the Popular Front for the Liberation of Palestine. He was killed by Mossad in a car bomb explosion in Beirut in 1972.
Palestinian Ambassador Salah al-Zawawi, Arab scholars Wasini Al Araj and Zaynab al-Awaj and Iranian literati Gholamreza Emami, Mohammad Jahir, Musa Bidaj, Shokuh Sadat Hosseini and Tehran City Council member Ahmad Masjed-Jamei are scheduled to speak at the meeting entitled "A Night with Ghassan Kanafani".
Organized by the House of Humanities Intellectuals and Bokhara magazine, the meeting will also unveil three books from Arabic literature. The books are "Arab World's Poetry", "The Olive Tree" and "The Tales", all published by Ruzbahan Publications in Tehran.
"Arab World's Poetry" is an anthology of poems by Arab poets, including Mahmoud Darwish, Kahlil Gibran, Adunis and Nizar Qabbani. The collection has been compiled and translated into Persian by Firuz Shirvanlu.
"The Olive Tree" is a collection of works by Samih al-Qasim, Fadwa Tuqan, Tawfiq Ziad, Salem Jubran and several other Palestinian poets, which has been compiled by Kanafani. The book is rendered into Persian by Sirus Tahbaz and Gholamreza Emami.
A new edition of the Persian translation of Kanafani's short stories "The Tales" by Gholamreza Emami will also be introduced at the meeting.
Photo: A poster for "A Night with Ghassan Kanafani".
ABU/MMS/YAW