Zarif slams U.S. arbitrary arrest of Press TV anchor Marzieh Hashemi
January 18, 2019 - 23:25
International Federation of Journalists voices 'serious concerns' over Hashemi's detention.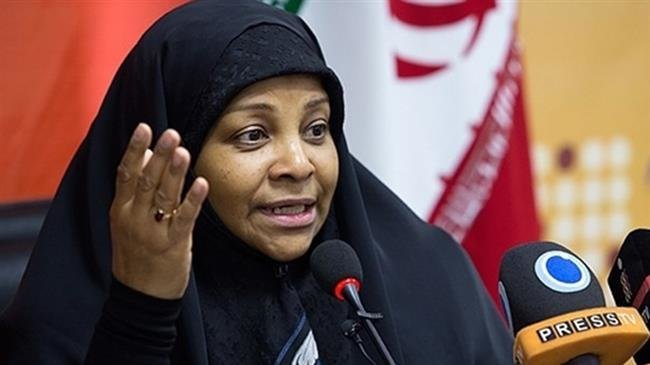 TEHRAN – Foreign Minister Mohammad Javad Zarif has censured the arrest of Press TV anchor Marzieh Hashemi, who has been imprisoned by the FBI on unspecified charges.
The arrest of Hashemi is a clear violation of freedom of speech, Zarif said on Wednesday in an interview with the Al-Alam news network, urging the U.S. officials to end their "political game" at once.
"The arrest is a political and unacceptable move by the U.S.," Zarif remarked.
Hashemi, an American-born journalist based in Iran, was detained on the weekend upon arrival at the international airport in St. Louis, Missouri, without any explanations, her family and friends told Press TV on Wednesday.
Her son, Hossein Hashemi, said she was detained as a "material witness" to a criminal case and no charges were pressed against her, Press TV reported.
The FBI has so far refused to comment on the case.
Iranian Foreign Ministry spokesman Bahram Qassemi has described the United States as a "dangerous" country for journalists.
This arrest is "a blatant violation of human rights" and proves that Washington "is not committed to any of the principles that it uses as pretexts to attack its critics," he said in a statement.
The Iranian High Council for Human Rights said in a statement on Thursday that the way Hashemi was arrested and the "violent and humiliating treatment" of her is a brazen example of arbitrary arrest and detention, torture and flagrant violation of freedom of speech.
It also called on the self-proclaimed advocates of human rights in Europe, on the United Nations, the UN Human Rights Council, and the UN High Commissioner for Human Rights to immediately denounce the move and to make serious efforts to secure her release.
"The U.S. government is undoubtedly accountable for all these illegal, unjustifiable and anti-human rights measures," the council concluded.
Hossein Amir Abdollahian, a senior foreign policy advisor to the parliament speaker, has also denounced the move as a "political game", saying if she is "not released immediately, it is not the U.S. which will end that game."
On Friday, the International Federation of Journalists (IFJ) voiced "serious concerns" over Hashemi's detention.
In a Twitter post, the federation wrote that the United States must give clarifications about the situation of the Press TV anchor.
Alexandra Ellerbeck, a program coordinator of the Committee to Protect Journalists (CPJ), said on Thursday that "we are concerned by the arrest of a journalist for Iranian state TV, Marzieh Hashemi, and call on the U.S. Department of Justice to immediately disclose the basis for her detention for the past five days."
MH/PA