Japan to continue oil imports from Iran: envoy
February 19, 2019 - 21:52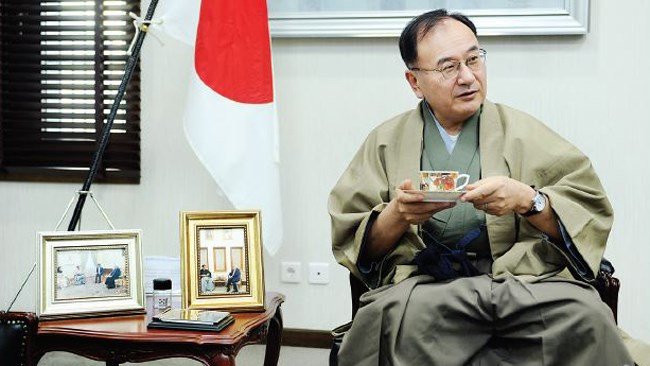 TEHRAN- Japan's new ambassador to Tehran said his country will continue importing oil from Iran, the portal of Iran Chamber of Commerce, Industries, Mines and Agriculture (ICCIMA) published on Tuesday.
Dismissing rumors that Japan would stop buying Iran's oil, Mitsugu Saito said his country's policy is to continue oil imports from Iran.
Cementing economic ties between the two countries is Japan's first priority regarding its relations with Iran, the ambassador noted and said that presence of Japanese companies in Iran despite the U.S. re-imposition of sanctions against the Islamic Republic highlights the significance of Tokyo's relationship with Tehran.
Japan is among the eight countries with the U.S.'s 180-day waivers allowing them to keep importing Iranian oil through May 4. Confusion surrounding shipping, insurance and banking rules under the U.S. sanctions kept some of the countries from resuming imports for months after the U.S. granted waivers on November 5.
On February 3, S&P Global Platts reported that Japan's largest refiner JXTG Nippon Oil & Energy was set to resume loading of Iranian crude oil as early as Monday (February 4), almost three months after the U.S. sanctions waiver was granted.
The same day, a JXTG Nippon Oil & Energy spokesman confirmed that the refiner is resuming its Iranian crude oil loading in February.
JXTG Nippon Oil & Energy is the fourth Japanese refiner to resume Iranian oil loading, after Showa Shell, Fuji Oil and Cosmo Oil resumed crude oil loading from Iran in January - the first in four months - totaling around 4.9 million barrels.
With other refiners planning to resume imports in February, Japan is expected to load about 14 million barrels over January-February, according to Platts calculations based on market information.
That would put Japan's average Iranian oil imports at 78,000 b/d during the 180-day waiver, down 49% from 153,000 b/d imported over May-October 2018, according to Platts calculations.
Japan may have to halt loadings again in March as lifters need to complete voyages before government-backed shipping insurance expires at the end of March for expected renewal on April 1, according to Japanese industry sources.

MA/MA