By Mohammad Homaeefar
IRGC Navy develops anti-laser weapon
March 3, 2019 - 17:11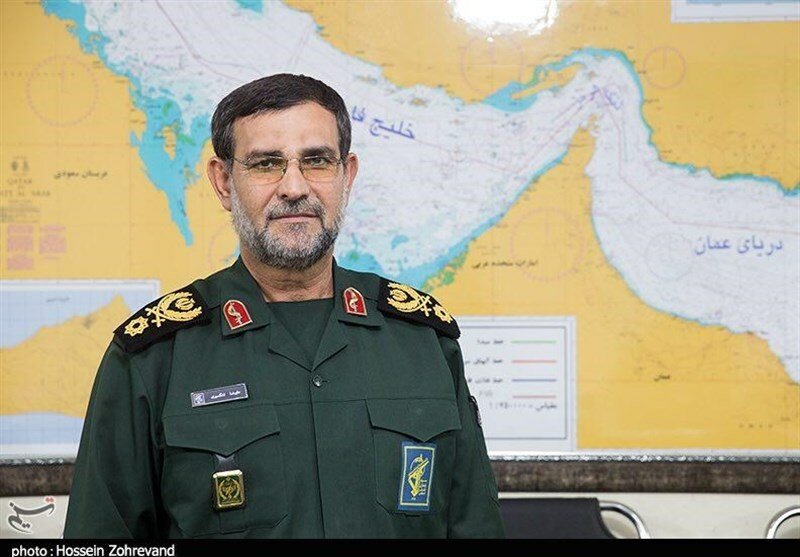 TEHRAN – Islamic Revolution Guards Corps (IRGC) Navy chief Alireza Tangsiri has said his forces have developed a weapon that is able to beat the United States' anti-drone laser system.
In an interview with Tasnim published on Sunday, Rear Admiral Tangsiri said the IRGC Navy has successfully developed the weapon, which is now available.
He declared plans to equip the IRGC Navy with new submarines, saying the force is after producing midget submarines that would be more advanced than the Qadir submarines, and are like the Fateh or Persian Gulf submarines, which are being manufactured by the Defense Ministry.
The commander emphasized that the new submarines should be equipped with torpedoes and subsurface-to-surface cruise missiles.
The navy's industrial centers are manufacturing patrol and missile-launching vessels, as well as heavy military ships, the admiral remarked.
He added the IRGC Navy will build a 65-meter-long watercraft equipped with missiles and torpedoes and capable of carrying helicopters.
Tangsiri also said his forces may receive anti-ship ballistic missiles, like the Persian Gulf missile, from the IRGC Air Force, and are planning to use a more advanced version of those missiles.
In remarks in January, Tangsiri announced plans to produce submarines and unveil its technological achievements in this respect "in the future".
"[Progress] in the area of submarines is one of our needs which we should pursue," he stated.
Asked about the navy's preparedness, he said, "We are fully prepared and observe all the moves by our extra-regional enemies."
Leader of the Islamic Revolution Ayatollah Ali Khamenei has urged the Armed Forces to upgrade their military capabilities and preparedness.
"Enhance your abilities and preparations so much as you can so that the enemies of Iran do not even dare to threaten this great nation," Ayatollah Khamenei said during a meeting with a group of navy commanders and officials in November.
MH/PA