Military chief: Iran facing numerous threats
March 5, 2019 - 20:11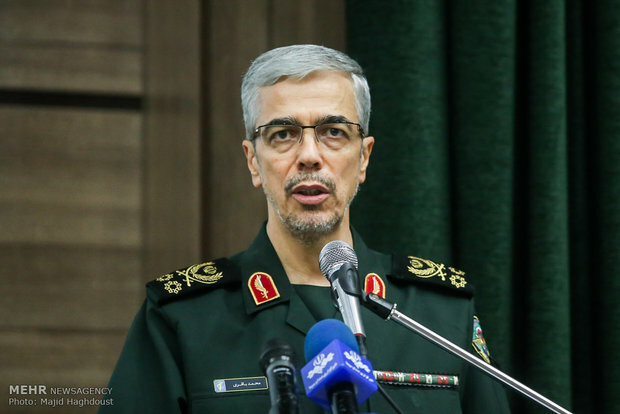 TEHRAN – Armed Forces Chief of Staff Mohammad Baqeri said on Tuesday that Iran is facing a multiplicity of threats in a variety of forms.
"We are facing various threats and it is natural to prepare our army and other forces for facing the threats," General Baqeri told a graduation ceremony of AJA (Islamic Republic Army) University of Command and Staff, aka DAFOOS.
He also said, "There are a lot of questions regarding the future of the region, the world, and the world power pyramid… But what is important is what role we have in the future of the region and the world according to Islam. He added, "The armed forces should adopt a very outstanding role on this path and have the best of functions."
He went on to say that "our country has no master and nobody dictates our strategy."
Speaking during the same ceremony, Army Commander General Abdolrahim Mousavi said recently there have been requests from other countries to attend the DAFOOS programs.
He said the university is prepared to admit foreign students, stressing that the material and human resources of the university provide the necessary basics for international admittance.
DAFOOS is a subdivision of the Joint Staff of the Islamic Republic of Iran Army and offers masters of military art and science courses to personnel of all four military branches of the Army with the rank of major and higher.
The university also provides courses for foreign officers of countries with a close relationship with Iran.
SP/PA