'Pakistani won't allow its soil to be used for terrorist activities'
March 10, 2019 - 10:7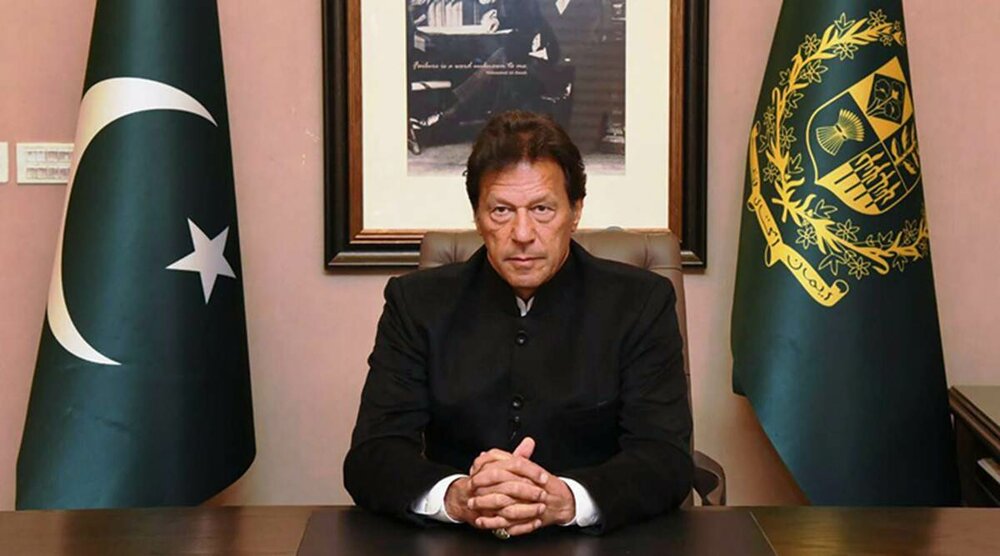 TEHRAN -In last few weeks, since the saber-rattling between the two South Asian nuclear giants took them to the brink of a full-fledged war, the role of Pakistani premier in de-escalating tensions has been significant.
Imran Khan, who announced the release of Indian pilot Abhinandan as "a gesture of peace" last week and extended an olive branch to his Indian counterpart Narendra Modi, has said that his government will not allow any terror group to use Pakistani soil for destabilizing other countries.
The remarks came days after his government announced a sweeping crackdown on armed groups, including Jaish e Mohammad (JeM), which was responsible for last month's deadly attack in Indian-controlled Kashmir.
Addressing a public rally in southern Pakistan, Khan said a 'new era' is emerging in 'new Pakistan' and there was a huge desire to build a peaceful and stable Pakistan.
Pakistan has faced tremendous pressure from the international community, including its neighbors India, Afghanistan and Iran, urging it to take action against terror outfits based in Pakistan.
It is pertinent to note that a day before the attack in Indian-controlled Kashmir, which putt the two neighbors at loggerheads again, an attack in Iran's southeastern Sistan-Baluchistan had claimed the lives of 24 IRGC personnel.
The attack in Sistan-Baluchistan drew sharp reaction in Iran with top military commanders and politicians blasting Pakistan and demanding immediate and appropriate action against Jaish e Adl, a militant group based in Pakistan's Baluchistan province, which claimed responsibility for the attack.
Earlier this week, Pakistan announced crackdown against terrorists and so far 182 religious schools run by banned groups have been seized and more than 120 people detained, according to reports.
Khan said Pakistan desires peace and has also sent this message to New Delhi time and again.
"We also handed over to India their [captured] pilot, because we do not want war, and also offered Pakistan's cooperation to India after the [February 14] Pulwama incident," he said in his speech, adding that his government wants to fight poverty.
Khan said he talked to Indian PM Narendra Modi after assuming power and told him that the subcontinent faces highest levels of poverty in the world, and that all issues should be resolved through dialogue.
"But I did not know that Modi will do all this after launching his election campaign," he added, hinting that the war-frenzy benefits Modi in his re-election bid. India goes to polls in May this year.
"If you (Modi) indulge in any bloodshed of Pakistanis to win the [upcoming] elections, there should not be any misunderstanding, we will retaliate," Khan said, addressing his Indian counterpart.
"Be it India or any [other] superpower, if anyone wants us to be subdued, we and our armed forces would fight to the end. Our people, as well as the armed forces, are fully prepared," he added.
Imran Khan said since he was born in an independent Pakistan but his parents were born in British India.
"When I describe Tipu Sultan as our hero, it is because of the fact that Tipu opted to fight for independence till his last blood, whereas [last Mughal Emperor] Bahadur Shah Zafar surrendered and accepted slavery," he said.
Khan said all political parties had come together as part of 2015 National Action Plan (NAP) to not allow any armed group to operate in Pakistan but the plan could not be fully implemented until recently.
"There are people among these groups which have done welfare works, they shouldn't worry … I know there are groups whose militant wings have already ended but we are part of the international community and we will not allow any militant armed group to function here," he added, referring to government's recent crackdown against banned organizations.
Taking a potshot at Modi and his political rivals in Pakistan, Khan drew a parallel between the sub-nationalist character of Pakistan's political parties and Modi's strand of religious discrimination.
"In Pakistan, some parties divide the country in the name of Pakhtuns and Balochs. And in Punjab when they [Pakistan Muslim League-Nawaz] get into some difficulty, they raise the slogan of jag Punjabi jag [wake up Punjabis wake up].
Khan said the Indian Muslims and other minorities now realize that Pakistan's founder Muhammad Ali Jinnah was right to launch a struggle for a separate.
"However, my government stands with the Hindu community. We will not allow any injustice to happen to them," he affirmed.
Although Khan has made subtle overtures to India in recent weeks, including in the latest speech, analysts say there is no likelihood of two countries holding talks before the upcoming general elections in India.
Meanwhile, border skirmishes continue between the two countries, keeping the armies on both sides busy. These border skirmishes also snowball into military confrontations sometimes.