Baghdad should act in a way that U.S. forces leave Iraq soon, Ayatollah Khamenei suggests
April 6, 2019 - 22:37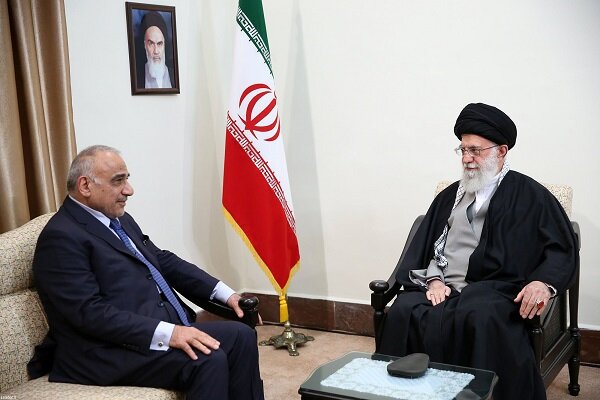 TEHRAN – Leader of the Islamic Revolution Ayatollah Ali Khamenei said in a meeting with visiting Iraqi Prime Minister Adel Abdul Mahdi on Saturday that the Iranian government and nation consider the Iraqi development and prosperity to their own benefit.
During the meeting which President Rouhani was also present, Ayatollah Khamenei also said relationship between Iran and Iraq goes beyond mere interaction between two neighboring countries.
But contrary to their remarks, Americans view democracy and political activists in Iraq detrimental to their own interests and that is why the Iraqi government should act in a way that American military forces leave the country as soon as possible, the Leader noted.
The Leader said experience has shown that the longer American forces stay in a country the more difficult it will be to drive them out.
Ayatollah Khamenei also praised Abdul Mahdi's clever and wise position toward developments in Iraq and the entire region as a whole.
The Leader also lauded the bravery of the Iraqi youth in fighting Daesh, calling the Iraqi youth's victory over Daesh an "historic event".
Pointing to gifted human resources in Iraq, Ayatollah Khamenei said when the Americans first came to Iraq in 2003 they assassinated a large number of Iraqi scientists since "they were aware of the importance of these important assets."
The Leader added human resources and abundant underground riches will turn Iraq into the most influential country in the Arab world.
The Leader went on to say that the United States and its lackeys are opposed to the current democratic system in Iraq and the political figures who are running the country.
Noting that if the Iraqis follow the White House they will face no problem with Washington, Ayatollah Khamenei said the composition of the Iraqi government parliament and those who are politically active in the country are not favorable to Washington and due to this reason the U.S. is planning to push them out of politics.
The Leader added there is a great difference between the Americans and Saudis' rhetoric and what they have in mind, noting when Daesh captured Mosul they sent money and arms to them but now that Iraqis have defeated this terrorist group they claim friendship with Baghdad.

Iraqi PM calls relations with Iran 'special'
During the meeting, Prime Minister Abdul Mahdi called Iraq-Iraq relations "special" and said as his country has announced it will never join American sanctions against Iran.
Abdul Mahdi visited Tehran on Saturday morning. It was his first visit to Iran since he was elected prime minister. He was accompanied by ministers of oil, finance, foreign affairs, planning, commerce, energy as well as national security advisor, army chief of staff, deputy interior minister, and a number of parliamentarians.
The visit came after Rouhani's landmark visit to Iraq in March which marked the signing of several memorandums of understanding for expansion of cooperation in key sectors and meeting with top political and religious figures.