114 nuclear achievements unveiled on National Nuclear Technology Day
Iran starts installing chain of 20 IR6 centrifuges
April 9, 2019 - 13:18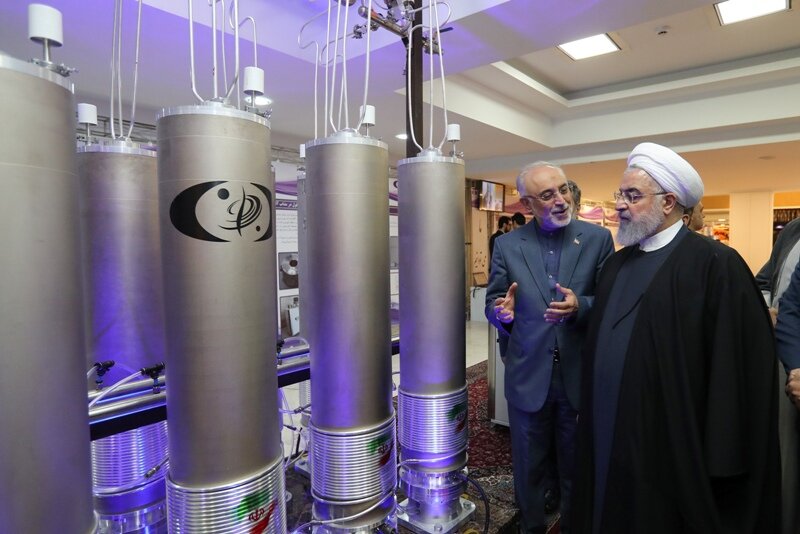 TEHRAN – On Tuesday, concurrent with National Nuclear Technology Day, which falls on the 20th of the calendar month of Farvardin, the Atomic Energy Organization of Iran (AEOI) began installing IR6 centrifuges at a nuclear enrichment facility, the IRNA news agency reported.
Following an order by President Hassan Rouhani, the installation of a chain of 20 advanced IR6 centrifuges started in the Natanz enrichment facility in central Iran, the news agency said.
This was part of 114 nuclear achievements unveiled in a ceremony on National Nuclear Technology Day.
"We are happy that the installation of a chain of 20 advanced IR6 centrifuges begins today. This will be a very big achievement for the Iranian nation," Rouhani said in a video conference.
According to IRNA, the centrifuges were produced at the Modern Centrifuge Assembly Center which was established following a decree by Leader of the Islamic Revolution Ayatollah Ali Khamenei.
Subsequent tests will be carried out with the installation of the centrifuges, the report added.
Rouhani also inaugurated six outstanding projects and systems via video conference.
Speaking at the beginning of the event, AEOI Chief Ali Akbar Salehi said Iran has made headways in the nuclear industry, which has also contributed to progress in other industrial and medical sectors.
Salehi, a nuclear physicist, gave a brief description of the six homegrown projects and the equipment unveiled at the ceremony.
He also slammed Washington's unilateral sanctions on Tehran, saying the sanctions will never be able to make the slightest dent in Iran's resolve to advance its nuclear technology projects.
The illegal sanctions on the AEOI shows the poor political judgment of the White House authorities, Salehi remarked.
He further said the International Atomic Energy Agency (IAEA) has confirmed Iran's full compliance with its nuclear-related commitments under the Joint Comprehensive Plan of Action (JCPOA), while the U.S. has violated the agreement by its unilateral withdrawal.
MH/PA