Iran, Pakistan to establish rapid reaction force against terrorists
No third country can affect Iran-Pakistan ties: Rouhani
April 22, 2019 - 18:3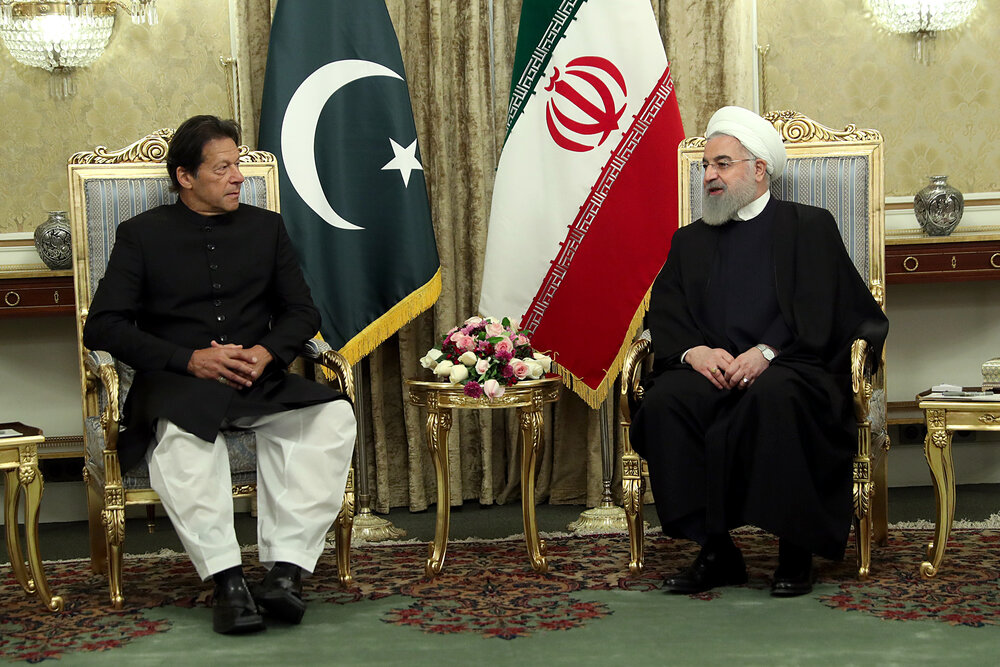 TEHRAN – President Hassan Rouhani said on Monday that Iran and Pakistan are determined to expand relations and no third country can undermine their friendly ties.
In a joint press conference with Pakistani Prime Minister Imran Khan in Tehran, Rouhani said that the two countries have capacities to expand economic relations.
He also said that Iran is ready to sell oil to Pakistan.
Rouhani also said security at common borders featured high in talks with Prime Minister Khan.
"The issue of security at borders was another issue we discussed. Unfortunately, we witnessed brutal acts by terrorists in the past months. We are happy that the Pakistani side has called groups which take inhuman actions 'terrorist' and counters them as terrorists," he explained.
On February 13, the so-called Jaish ul-Adl group whose members use Pakistan's soil as a hiding place, carried out a terrorist attack against Iranian border guards, killing 27 servicemen and injured 13 others. They were traveling between the cities of Zahedan and Khash, in southeast Sistan-Baluchestan province, when their bus was targeted in a suicide car bomb attack.
Iran, Pakistan to establish rapid reaction force against terrorists
Rouhani revealed that the two countries will form a rapid reaction force to fight terrorism at borders.
Iran to increase electricity export to Pakistan by 10 times
Elsewhere, Rouhani said it was agreed that Iran to increase export of electricity to Pakistan by ten times.
He also expressed hope that relations between Gwadar and Chabahar port cities would be expanded.
Gwadar is owned by Pakistan and Chabahar by Iran. The Pakistan port is being developed by the Chinese and Chabahar by the Indians.
Khan invites Rouhani to visit Pakistan
Rouhani also said that Khan has invited him to visit Pakistan, expressing hope it would happen in the near future.
'Militants should not be allowed to use Pakistan soil to commit terror acts'
For his part, Khan said that militants should not be permitted to use the Pakistani soil to commit terrorist acts.
"Terrorism is the most important reason for my trip to Iran. Differences would not be increased if there was no terrorism. It is the issue of terrorism which has caused differences and it was important to take this trip," the prime minister remarked.
The prime minister said, unlike Afghanistan where terrorism is not annihilated despite NATO's presence in the country, Pakistan has made great achievements in fight against terrorism.
Khan added, "We are ready to cooperate with Tehran to settle the issue of Afghanistan through dialogue and political ways, because peace in Afghanistan will be useful for the people of Afghanistan who have been suffering for 40 years and will also be useful for the people of Iran and Pakistan."
Elsewhere, he said that the issue of Kashmir can be resolved politically and through dialogue.
"Military solution is not the answer to the Kashmir issue. We need dialogue to find a political solution."
The prime minister said if the Kashmir issue is settled the entire Indian subcontinent will benefit from it and in that case Iran can reach the Indian and Chinese markets through the Pakistani soil.
Since independence from Britain in 1947, Kashmir has been divided between India and Pakistan and is claimed by both sides.
'New chapter in Iran-Pakistan ties'
During a meeting of high-ranking delegations of Iran and Pakistan, Rouhani said that a new chapter has been opened in Iran-Pakistan relations by Khan's visit to Tehran.
He also said, "Iran and Pakistan will not allow interference in their brotherly and friendly relations."
The president went on to say that the U.S. has caused the most harms to the economy and security of the region through military interventions.
"Under the current situation, the regional countries should take decisions and draw up plans independently and in line with their interests," he opined.
Commenting on expansion of economic relations, he called for using national currencies in bilateral trade.
Khan said that Pakistan seeks to find a mechanism to expand economic ties with Iran especially in gas and oil industries.
He said though terrorists are making efforts to cause harm to friendly relations between the two countries, Pakistan is determined to fight them.
Prime Minister Khan arrived in Tehran late on Sunday after first visiting the shrine of Imam Reza (AS) in the northeastern city of Mashhad.
It is the first time that Khan is visiting Iran since he was elected prime minister in August 2018.
Tehran, Islamabad ink health agreement
On Monday, the Islamic Republic of Iran and the Islamic Republic of Pakistan signed a memorandum of understanding in health and medical fields in the presence of Rouhani and Khan.
The MOU was signed by Iranian Health Minister Saeed Namaki and Special Assistant to the Pakistani Prime Minister on National Health Services Zafarullah Mirza.
NA/SP/PA