Iran's defense chief does not rule out military force to counter economic terrorism 
April 24, 2019 - 20:1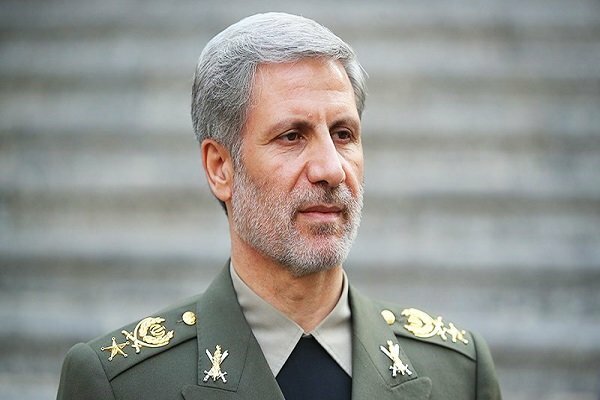 TEHRAN – Iranian Defense Minister Brigadier General Amir Hatami has said the U.S. plan to zero Tehran's crude sales is impractical, and warned that his country may be forced to resort to "defensive tools" to combat Washington's "economic terrorism" against the Iranian people.
"Welfare of (the Iranian) nation is a part of our vital interests and I consider myself allowed to use all legitimate tools, including defensive instruments, to meet these interests and confront America's economic terrorism," Hatami said, addressing the Moscow Security Conference on Wednesday.
He underlined continued efforts to strengthen the country's defense power within the framework of active deterrence doctrine, saying he does not assume as practical the U.S. claims of zeroing Iran's oil exports.
General Hatami warned of the dire consequences of the West's silence on the United States' bold decisions against other countries, noting that a new form of Nazism has emerged in disguise of Trumpism.
"If this approach continues, the world might be pushed into ill-fated clashes, and therefore it is time to prevent the rise of another Hitler on the global scene," he said, adding that the West's silence on Washington's behaviors and moves would entail grave repercussions for the world similar to the World War II.
Hatami meets with Iraqi counterpart
Speaking at a meeting with Secretary General of the Iraqi Ministry of Defense Lieutenant General Mohammad Jawad Kazim in Moscow on Tuesday, Hatami also said Iran and its allies in the Middle East, Iraq in particular, will never allow outsiders to bring insecurity into the region again.
Hatami praised the current level of security and stability in Iraq compared to previous years.
"Iran, as in the past, is trying to (help) this security and tranquility to be long-standing and permanent (so that) regional nations, especially the friendly and brotherly people of Iraq, will begin to reconstruct their countries in full security and without any foreign interference," he said.
The top Iraqi general, for his part, expressed his gratitude to the Islamic Republic for supporting the Arab country against terrorist groups, saying, thank God, the two nations managed to counter the massive attacks by the terrorists and prevent them from reaching their goals.
The Ministry of Defense of the Russian Federation has organized the annual conference in Moscow on April 23-25.
The conference agenda encompasses the problems of utmost significance in terms of shaping views on international security.
Separate plenary sessions offer space to exchange views on modern military challenges and threats, including the improvement of the arms control system.
SP/PA